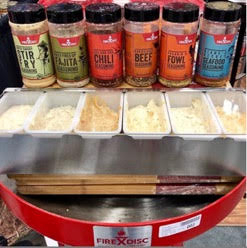 New seasonings inspired from flavors around the world to spice up your favorite meals

KATY, TX – FireDisc® Cookers continues its track of tremendous growth since the brands' inception in 2010. Starting with the initial vision of revolutionizing the outdoor cooking industry, FireDisc® has now become the go-to brand for outdoor cooking products for hunters, fisherman, campers and tailgaters. As the company continues to expand, Co-founders and brothers Hunter and Griff Jaggard embark on entering the world of flavor fanatics by introducing a new line of seasonings recently added to their growing product line.

"We wanted to do something different and enhance the cooking experience with products that anyone can use anywhere, not just on an outdoor adventure," said Griff Jaggard, President of FireDisc® Cookers.

With this new line of seasonings comes new opportunities. FireDisc® Cookers will be partnering with renowned Chefs nationwide as part of their Chef-Tested/Chef-Approved® quality assurance testing protocol to develop a series of new recipes that are inspired from palates all over the world.

The new line of delicious seasonings for all your favorite FireDisc meals include:
Fully Fired Up Fajita Seasoning
Super Savory Stir Fry Seasoning
Cha Cha Cha Chili Seasoning
Diane's Secret Seafood Seasoning
Freakin A Fowl Chicken Seasoning
Bodacious Beef Seasoning
One of the core foundations FireDisc® Cookers is built on is giving back. Hunter and Griff strive to keep this value near and dear to the company with the company's recent growth and development. Diane's Seafood Seasoning is dedicated to the wife of an employee who passed away from pancreatic cancer and 100% of the profits are donated to fight pancreatic cancer. This seasoning is the perfect touch to add a kick to any of your favorite seafood dishes.

FireDisc® Cookers' recent growth and development affords them the opportunity to give back to several organizations, keeping true to their commitment to community involvement.

Click here to view, purchase, and taste some of FireDisc® Cookers fan favorite recipes with your one of a kind seasoning.

About FireDisc® Cookers:
Texas-based FireDisc® Cookers specializes in the design and manufacturing of the world's most the innovative, high-quality and versatile outdoor grills and accessories. The company was founded by two entrepreneurial brothers, Griff and Hunter Jaggard, who, armed with a makeshift tractor plow disc set out on a mission to build a grill worthy of everyone from the world's top chef's to hunters, backyard family grill masters, tailgaters, rvers and campers. FireDisc® Cookers products are currently sold nationally via 700+ retail locations in 44 states and online throughout the globe.

Heavy-duty carbon steel construction renders the cookers indestructible, while meticulous designs yield convenient portability and ease-of-use. A rigorous "Chef-tested/Chef-Approved" quality assurance program enables the cookers to deliver unmatched grilling characteristics, as they have been vetted by some of the world's leading chefs. Prior to their launch of FireDisc® Cookers, the founders formed a non-profit to raise money and find a cure for Multiple Sclerosis. To date $1M has been raised via "The Carney Men" Bike MS team. Community involvement is the core of the FireDisc® brand in addition to the National MS Society they are proud supporters of the American Cancer Society and many more. For more information visit http://www.firedisccookers.com.

Media Contact: Lianna Ybarra
lianna@aguillon-associates.com; 210.254.9160