Running the Gen5 GLOCK 19 MOS with optics was a bit more daunting than I originally expected. As I fouled up and requested the Gen5 G19 MOS with GLOCK BOLD sights by AmeriGlo, I'd failed to look ahead and consider "suppressor height" sights. I don't believe in running an optic without having irons to fall back on in terms of a service pistol – though I'm past my 'expire by' date and younger folks are under no obligation to agree.
I just have little experience on pistols with optics and going for speed is problematic if you can't "find the dot."
I ordered up the (required) GLOCK mounting kit from Trijicon to fit the RMR Type 2 to the new G19 – as the mounting hardware from Trijicon won't do it and GLOCK doesn't supply the components. In GLOCK's defense, how are they supposed to know what sights you'll select? Similarly, the Trijicon RMR Type 2 is not built just for GLOCK "Modular Optics System" guns – and they provide standardized mounting hardware.
The bottom line is, factor that cost in when going for this particular setup. It's worth it because the Trijicon mounting kit comes with a sealing plate to protect the optic as well as the proper short screws to mount the sight.
It was the work of moments to zero the sight to the gun and I was ready to do the Comparative Standards. Unlike the first time I ran this gun, (using a concealment IWB from Ritchie Leather, the Dual Nighthawk Clip), I used the Raven Concealment Systems Perun holster – an OWB rig, along with Black Hills Ammunition 124 grain FMJ.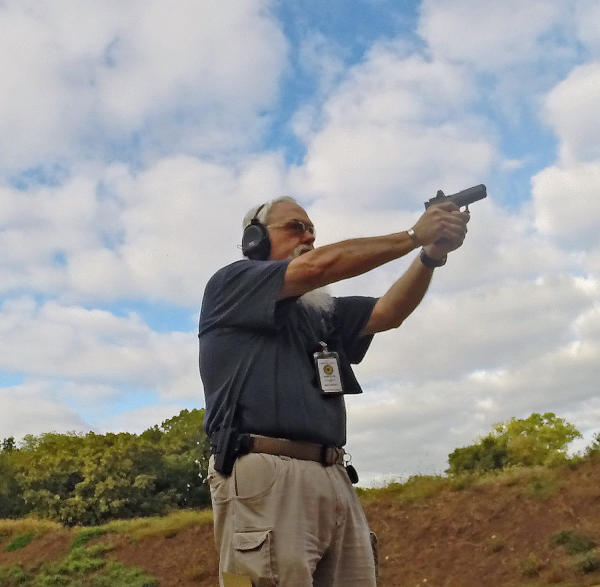 The gun was plenty accurate enough but it took ages to "find the dot." As I got closer, there were about three occasions where I just used the "window" to make the hits. My times were miserable and "stomping on the trigger" during a quick iteration at 25 yards put me a point down. My 15 yard times were longer by .1 - .15, I flunked the 10 yard "Wizard Drill" stage by nearly .2 second and the reload stage was just under 5 ½ seconds.
I was 3.45 seconds longer with a faster holster and an optic than with a deep-cover IWB and iron sights . . . That's an inability to 'catch-up' to the optic. I've used a reflex sight on a .22 pistol, the SW22 Victory. It's fun and it's fast, but I'm not drawing from a holster and going for speed.
I took the opportunity of having the RMR on the gun to check a couple of brands of ammo for 25 yard accuracy. If I couldn't find the sights out of the holster, slow fire over a bench should be easy.
It was; single-focal plane shooting is pleasing to the eye and lets you concentrate on the trigger. The Super Vel 115 gr. Solid Copper Hollow Point +P put five holes into 4 ½" with the best three going into 2 3/8". Hornady's Critical Defense 115 grain FTX cut five into 3 ¼" with the best three crowded into 5/8".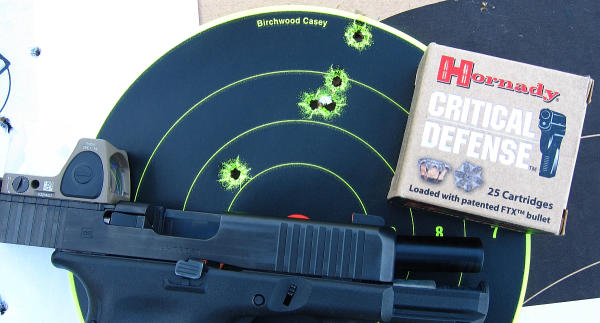 If I had it to do over, I'd have moved into reflex sights backed by high irons sooner. As it is, I don't have it to do over. That said, the new sights are great and I find them very useful on carbines, AR-pistols and the like. I'll always go "belt and suspenders" them though.
I'm a fan of the GLOCK Gen5 line generally and see no reason to change my opinion. The non-MOS early edition of the G19 Gen5 is being worn about every day now, having replaced the two earlier generations.
-- Rich Grassi