Most of us are aware of the fixed sight, plain finished and appointed Military & Police revolver. Not meant so much for target shooting, it was – as the name implies – destined to be a service revolver for duty use.
In the early days, it's written, such guns were chambered for 32 caliber cartridges, 38 caliber cartridges – and, for training – a few in 22 caliber.
In the era before light-for-caliber hollow point bullets using jacketed lead bullet technology, the option to increase perceived effectiveness of a defense/service handgun was to increase the bore diameter and the mass of the projectile. S&W made fixed sight service-style revolvers in 44 Special, 45 Colt, 45 ACP, 455 Brit., and perhaps others. With skimpy stocks (including the improved service stocks, the "Magna"), they could be a chore to shoot.
As I was in grade school at the time, I was unaware that a few handgun experts had made the rounds of manufacturers of guns and ammo to make a "medium" caliber cartridge. Elmer Keith had already taken that trip in the 1950s, asking for a cartridge that amounted to a "41 Special." I don't have the source at hand, but I believe I recall that the cartridge was to have a 200 grain Keith-style bullet (sharp shoulder semiwadcutter) traveling at about 850-900 fps out of a four-inch barrel.
His arguments fell on deaf ears, but the seed was planted.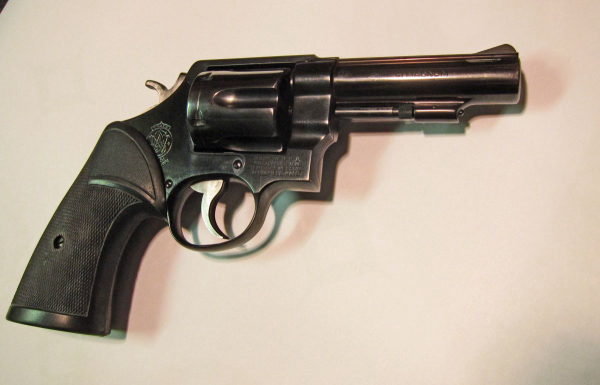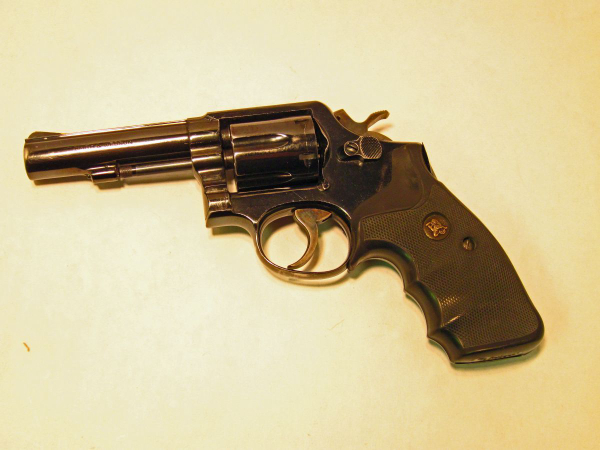 Along with Border Patrol Inspector Bill Jordan, Elmer made the trip again, to Remington for the ammunition and to S&W for the revolver. As we'd become obsessed with the "Magnum" moniker (even before Dirty Harry), Remington named the cartridge .41 Remington Magnum.
S&W barreled and chambered their flagship big revolver, the 44 Magnum – by then known as Model 29 – as the Model 57. Wonderfully polished and blued, with adjustable sights, a red ramp front sight and target stocks, it was easily priced out of the range of police buyers.
So, they made the biggest M&P. The Model 58 has a four-inch heavy barrel and, with its rear sight as a gutter along the top of the frame and the ramp front sight as well as the unshrouded ejector rod, it looks like a 4" heavy barrel Model 10.
A word about the perceived need: defense practitioners in the 20th Century before, say, 1968, had a compulsion about the ability of handguns to stop deadly threats immediately. Conventional handguns are not centerfire rifles any more than centerfire rifles are field artillery. Before the light-for-caliber, increased velocity softly constructed bullets, we were left with larger caliber with heavier bullets.
It literally was "either-or."
The fact of the matter was – and is – that caliber of conventional handguns is largely irrelevant to defense capability. Placement is critical.
Still, the faux dichotomy allowed us some interesting handguns and one of those is the Model 58.
It's a big, heavy heater with no frills. It looks all business and it is.
Think, as one writer put it, as a Model 10 with an excess of growth hormones. Weighing its caliber in ounces, the 41 oz. heavy barrel gun makes a powerful sap. The middle Magnum was hampered by the original ammunition choices. They couldn't as easily or cheaply cast Keith semiwadcutters (sharp edges in a bullet mold makes for slow ejection of the cast pill) as they could swage soft lead into kind-of semiwadcutter configuration. The 210-grain pill was still a bit stout at an advertised 950 fps in four-inches.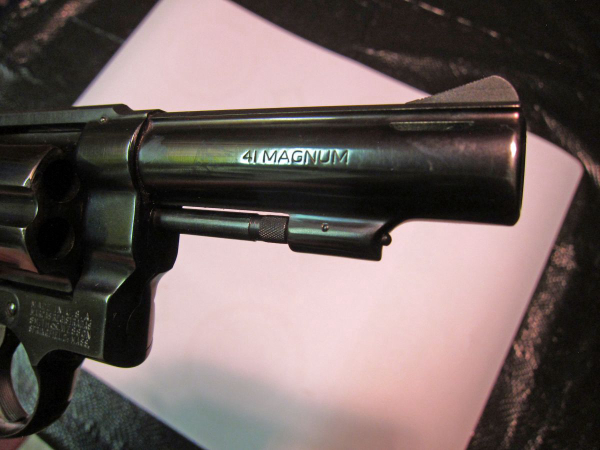 The load for the Model 57 – or for those hale & hearty who wanted to carry it on duty – was a 210-grain jacketed soft (not hollow) point, in original form. These 'rhino-rollers' (h/t, Richard Davis) achieved an advertised 1,300 feet per second.
I've shot some of them, out of the cannon pictured here. It feels like every one of those 1,300 feet per second. The split times could likely be measured by sun dial.
What's my history with this? A poorly refinished Model 58 made it into my possession in the late 1970s. An officer hired after me – someone who was considered more a 'gun guy' than I was, if one can imagine – carried a four-inch Model 57. He decided to have it "done up" for durability and shootability. He told me he was shipping it off to be refinished in Metalife or Metaloy, then to receive barrel porting from Mag-na-port. At that time, he could get "a deal" if he had two guns to port instead of one.
The Model 58 went off with his M57 to Larry Kelly in Michigan. The ports were beautifully cut, precise and sharp, without disturbing the blue finish on the barrel.
When you fired it, you still knew it was no 38 Special. The porting did help though.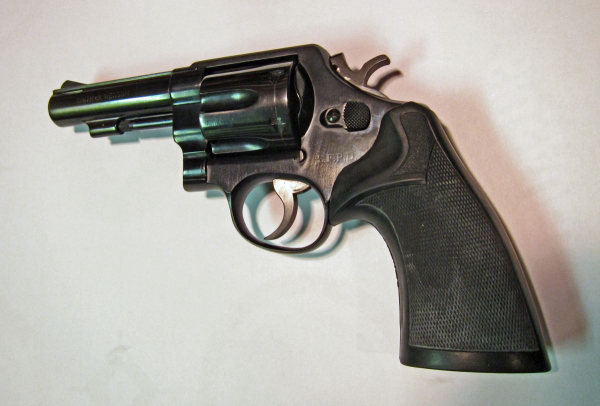 The Model 58 was adopted or authorized by few departments. The guns were heavy and then, as now, cops weren't impressed with having to deal with heavy, hard-recoiling guns. The gun pictured is marked "SFPD" – one of the agencies that issued it. I'd been looking for a SAPD-marked gun (San Antonio also issued the piece), but I long since gave up that hunt.
The gun was discontinued in 1977, the year I started in law enforcement. Tom Ferguson, an SAPD cop and columnist for Gun World Magazine, had carried the Model 58. When reading his material in the late 1970s, I was dismayed to see he was carrying a 4" heavy barrel Model 10 in 38 Special.
Didn't he know about the 357 Magnum?
I guess I was young, once upon a time.
The 41 Magnum is a grand handgun hunting cartridge … if you can find or fabricate the ammo. It's flat shooting, hits hard and is quite accurate.
-- Rich Grassi