I carried the M19 quite a bit in the 1970s, mostly a "-0" Combat Magnum owned by a former officer of my agency. That was followed by a "-1" in 2 ½" nickel-finish, another in 6" blued and a Model 66-1 (stainless) for a short time.
Due to some controversy surrounding shooting incidents in the 1970s, a number of agencies decided that all shooting with duty guns had to be accomplished with duty ammo (or remanufactured equivalents). That's a lot of magnum ammo being shot.
Further, the 158 grain lead semiwadcutter load that was about the only factory 357 load available when the Combat Magnum issued (and into the "Model 19" era as well) was supplanted with lighter, faster jacketed rounds. The standard weight for caliber was 158 grains, like the 38 S&W Special; for that reason, the 158 grain jacketed soft point came first, followed by the 110- and 125 grain JHP loads.
The 125 grain JHP loads were seen by some as the "magic" bullet. A large percentage of dangerous felons seemed to be quite impressed with the effects of the cartridge. The Model 19 Combat Magnum saw some serious wear issues with the newer load – as did the stainless-steel Model 66 Combat Magnums.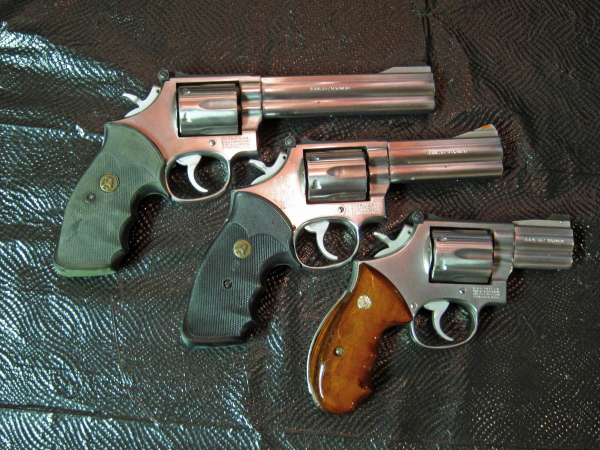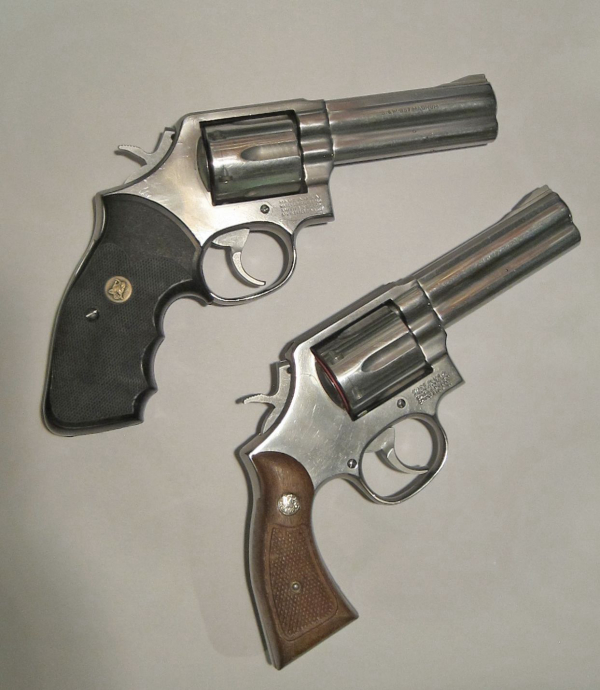 S&W, wanting to stay on top of the "issued police revolver" lists, announced the Distinguished Combat Magnum series in 1980. Starting with the Model 586 and Model 686 (stainless steel), they also made fixed sight versions, the Model 581 and 681 Distinguished Service Magnums.