Today's feature is from our parent service, The Outdoor Wire.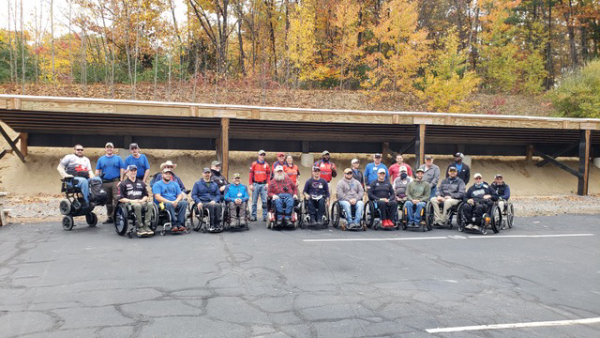 Last year, I was fortunate enough to be able to travel to Newington, New Hampshire, and participate in the inaugural Adaptive Defensive Shooting Summit (ADSS) at the SIG SAUER Shooting Academy. I left with the assurance I would be there again this year for ADSS II.
None of us had a clue how our 2020 plans would be turned upside down. When I left, there was no good reason why I wouldn't be attending. Shortly after the Bassmaster Classic in March COVID-19 changed all our plans.
Happily, I can report that ADSS II went off without a hitch as event organizer Trevor Baucom one again partnered with Camp Freedom to offer a unique combination of shooting instruction and competition.
The ADSS is limited to people with disabilities. This year's participants included veterans and "civilians." Some were dealing with lifelong disabilities, others challenges related to injuries - many suffered in the line of duty.
The varied types of disabilities mean instructors deal with everything from lifelong issues to motor function loss due to traumatic brain injuries or strokes, to limbs lost in combat.
It makes instruction tough, but rewarding. Fortunately, the instructors at this event know how to "work with what you've got," recognizing differing levels of potential and adapting their teaching to maximize the abilities, no matter how limited those might appear.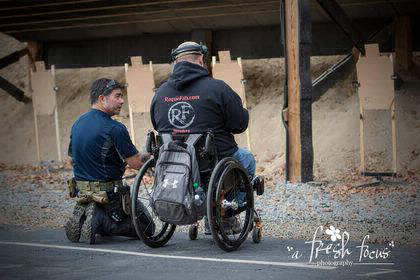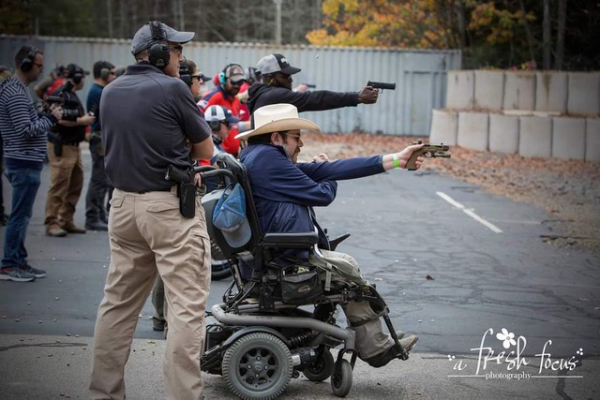 If you've ever seen someone who struggles to stand, or walk, or even control weakened arms learn to shoot, you know what a true smile of accomplishment looks like.
Watching them progress from barely competent to suitably proficient is as rewarding for the instructor as the student.
For many, shooting isn't just a recreational accomplishment, it's a significant step toward real independence. The disabled are among the most preyed-upon members of our society.
The ability to defend yourself makes a huge difference in both peace-of-mind, and quality of life.
This year's event was even more "real world" than last year. Rather than an event of elaborately decorated indoor stages only two were indoor this year. Being outdoors, especially on shooting ranges not specially adapted for wheelchairs and disabilities, injects even more reality. It also demonstrates the tenacity of the competitors.
Unlike "normal" competitions, the ADSS begins with instruction. Divided into groups, one went for pistol training as the other attended training that probably should be required at all shooting events: first aid training. More specifically, a "Stop the Bleed" course where they learned to correctly use the Individual Patrol Officer Kits every participant received from event sponsor North American Rescue.
Those kits include a Combat Application Tourniquet, an Emergency Trauma Dressing and Combat Gauze. The instruction included tourniquet use on limbs and dressing wounds to the torso.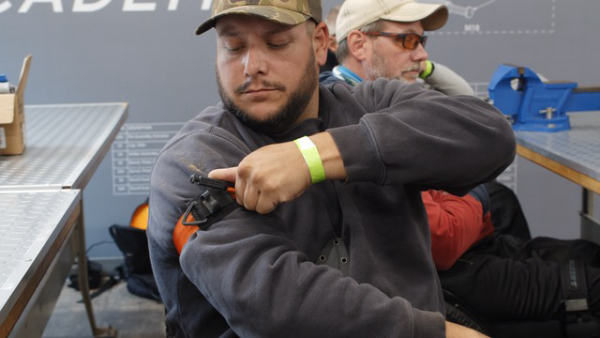 "We thought it was important to include a first aid course for a couple of reasons," says Trevor Baucom, "we're 100% in control of our actions when handling firearms, but we have no control over anyone else. A friend of mine was at the range recently, working on something. He took a step to the side of his shooting position when he heard a shot, followed by a 'thump' in the berm right behind where he'd been standing."
"About 100 yards away, an older gentleman was shaking his head and looking at his rifle case he'd just tossed into his vehicle. Later, he said it was the first AD he'd had in 68 years. Maybe so, but my friend was only about eighteen inches from a 30.06 round in the stomach."
"Most ranges," Baucom observes, "are 20-plus minutes away from medical care. Having the tools and knowledge to sustain life is critical."
Hard to argue that. We have a considerably harder time admitting that most ranges, despite having first aid kits, seldom have the trauma training and equipment essential to protect their customers or employees.
After the Day One instruction, participants moved to a demonstration range where they could try products from several event sponsors including Canik, Colt, SIG, Glock and Smith & Wesson.
Saturday was Match Day. One of this year's wrinkles was a lowlight indoor stage, another featured shooting out of vehicles. But another addition was an IDPA 5x5 classifier.
That's important because shooting the classifier -and receiving the 1-year IDPA membership that was gifted to every participant- means the participants can continue competing and training through IDPA.
That's a great migration tool to bring more new enthusiasts into shooting sports.
With two very successful events under their belts, it will be interesting to see just what's in store for ADSS III.
We'll keep you posted.
—Jim Shepherd