Today's feature is from correspondent Dave Spaulding.
Mini Red Dot Sights are here to stay and as hard as I resisted, I have "gone over to the dot side." Let's be clear, any sight system will work if you can see it. At this stage of my life, I see the glowing red dot quicker and easier than anything else currently available. If I want to use irons, I have to wear corrective lenses, which I do not on a regular basis. They have also allowed me to continue to shoot at a level I would not be able to do otherwise (as I'm approaching age 70) and this is important to me.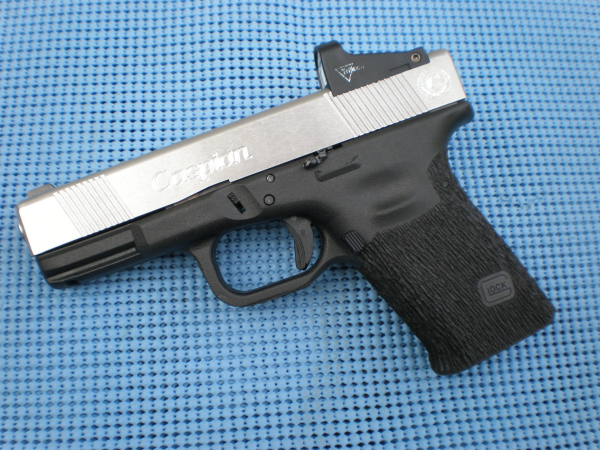 I am not new to red dot usage. I used red dots in the early 90's while competing, but let's be honest, the frame mounted "tube sights" used for competition are not the same as what we are talking about today. In 2007, I was at the Caspian Arms plant in Vermont and asked them to cut one of their Glock 19 slides to fit a J Point red dot sight. When asked why I wanted it cut, I told them I wanted to sink the optic into the slide in an attempt to use the rear notch in the unit as a rear sight. The good folks at Caspian did not know if it was possible, but they were sure willing to try and it worked out famously.
To the best of my knowledge, this was done before gunsmiths started cutting slides on a regular basis for the installation of dot sights. Prior to this, platforms were used which attached to the rear sight dovetail. We now realize cutting slides to the exact footprint of the sight is the way to go. While mounting plates are a viable option and allow for the mounting of a variety of sights, exact slide cuts actually help protect the sight from recoil impulse and is considered the "way to go" by many knowledgeable shooters and instructors. I used this Caspian slide and J Point optic for a one-year study of red dots on combative pistols that I then reported on for the now out-of-print LAW OFFICER MAGAZINE. Here is part of that article, published in 2009: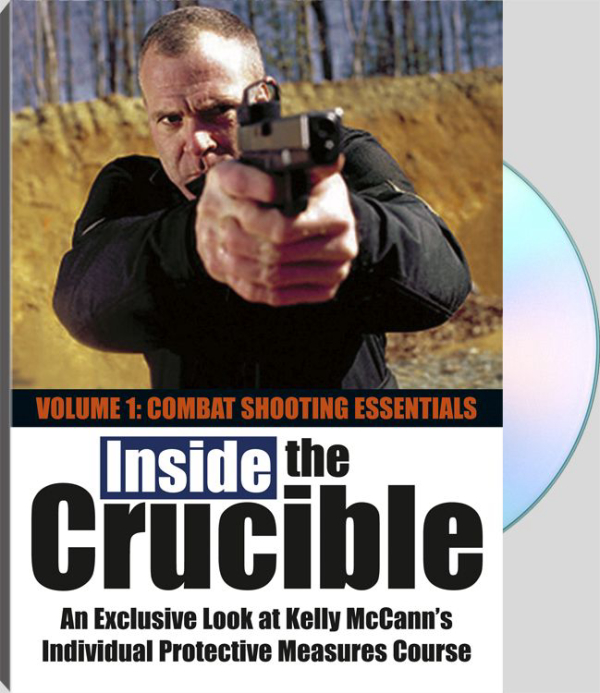 "The first time I saw a compact red dot sight on a combative pistol was on the Glock 19 of trainer Kelly McCann … McCann wanted to have the same visual sight on his pistol that was on his carbine, so he placed a Docter optic (an early version of the J Point) on his Glock and began to run the gun. McCann presents his reasons for changing to a red dot sight in his video training series Inside the Crucible, from Paladin Press. His use of the sight led a number of others to place compact red dots on their combat handguns—including me … During the year that I used the red dot, I used an iron sight slide as a control. I carried the red dot (I selected the J Point from J.P. Enterprises) in all weather conditions, as well as a few competitions and training courses, all in an attempt to see how well the sight would hold up. Although it takes time to get used to the red dot and not look for the front sight, after an officer grasps the concept, the red dot sight is fast and accurate even at a distance and allows the shooter to look at the target through the sight. I passed this gun around during SWAT training for a local team, and all who shot it liked the idea that the pistol sight looked the same as their rifle sight. Such continuity would be a real plus during training and operations.
"Do I believe these are the next generation of pistol sights? It will depend on how the sights develop and what their cost will be … (keep in mind, this article was written over a decade ago and sights are now less expensive. I am a fan of the Bushnell RXS 250 and the Ameriglo Haven which are both tough and reasonably priced) …
"Will iron sights go away? No more than they have for carbines. A contingency plan is always a good thing and having sights to fall back on in the event the optic fails is just good practice."
Dave's findings will appear in the next installment –
Dave Spaulding is a professional firearms instructor with 36 years' experience in law enforcement and federal security. The recipient of the 2010 Law Enforcement Trainer of the Year Award from the International Law Enforcement Training and Educators Association, Dave has worked in all facets of law enforcement including communications, corrections, court security, patrol, evidence collection, training and investigations. He was a founding member of his agency's SWAT Team and acted as its training officer for 8 years. He spent a year in an undercover capacity and was the commander of a multi-jurisdictional narcotics task force, has been an adjunct instructor at the former Heckler & Koch International Training Division and the Tactical Defense Institute. In addition to his many published articles (over 1,400), Dave is the author of two acclaimed books, Defensive Living and Handgun Combatives. He operated his own training company with focus on "the combative application of the handgun" www.handguncombatives.com.