On October 12 beginning at 10:12am, a team of 5 shooters stood at the ready with their CZ-1012 shotguns to begin their attempt to set a new world record. Their goal was to beat the current record of 4,602 clays shot by a team of 5 in 12 hours which was set in Great Britain by a group of 5 men.
This Guinness World Record attempt was the brainchild of David Miller, the Shotgun Product and Special Event Manager for CZ-USA who currently holds the record for most clays shot in 1 hour (3,653). However, Miller wanted to do things a bit differently. He wanted to elevate youth from both the Scholastic Clay Target Program (SCTP) and A.I.M. by choosing a male and female at each of their national events.
A 2-part qualification process included a 50-target clay shooting challenge and 500 word essay each worth 50% of the total score. The essay required each athlete to answer two questions: "What have the shooting sports done for you?" and "Why do you deserve a spot on this team over someone else?" A rubric was created and all the essays were scored then added to the clays hit score. From these totals the team of youth shotgun athletes was chosen.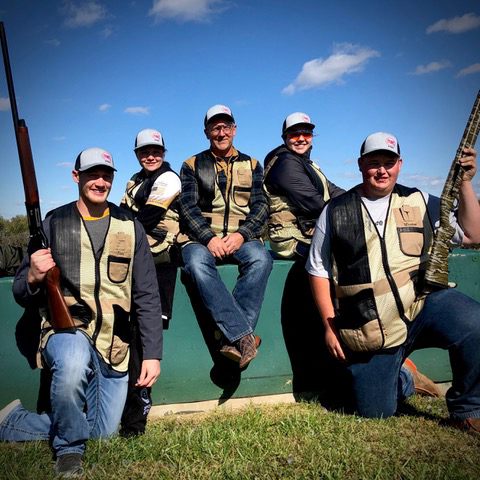 The Equipment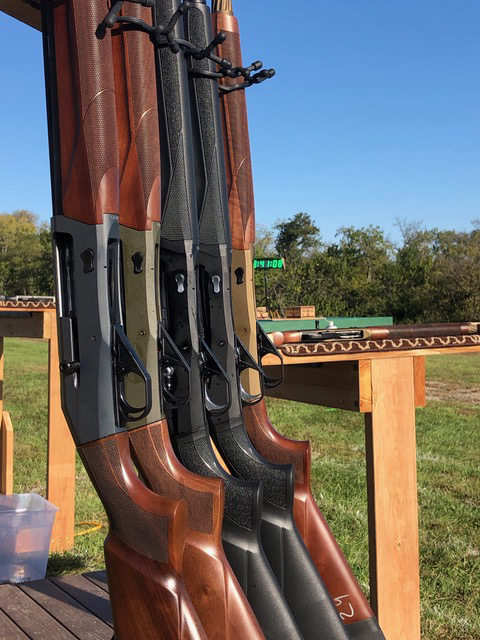 All team members shot 12 gauge CZ-USA 1012 shotguns which feature a gas-less operating system. Ammunition was donated by Aguila, to pummel the clays from White Flyer thrown by 10 MEC Outdoors 400E Chandelle Clay Target Machines. Dave Miller acknowledged many times the event could not have taken place without these generous donations from these companies as well as SCTP, A.I.M., The Risher Companies, Wild Hare and Powder Creek Shooting Park.
The Event
After more than 11 months of planning and the help of more than 30 volunteers the first shots were fired by Weston at exactly 10:12 am at Powder Creek Shooting Park in Lenexa, Kansas. On the command of "pull" each shooter was presented with 2 targets, and on report, 2 more clays were thrown. This was repeated all the way down the line and then back to Weston. The entire process took about 35 seconds.
Shooters were each given 6 shotguns to keep at their stand should anything go wrong. They were the only individuals allowed to touch the guns and carry the ammunition to their stand. Each stand had a rest for the guns, a trough for the shotshells and a stool should they need to sit for a bit.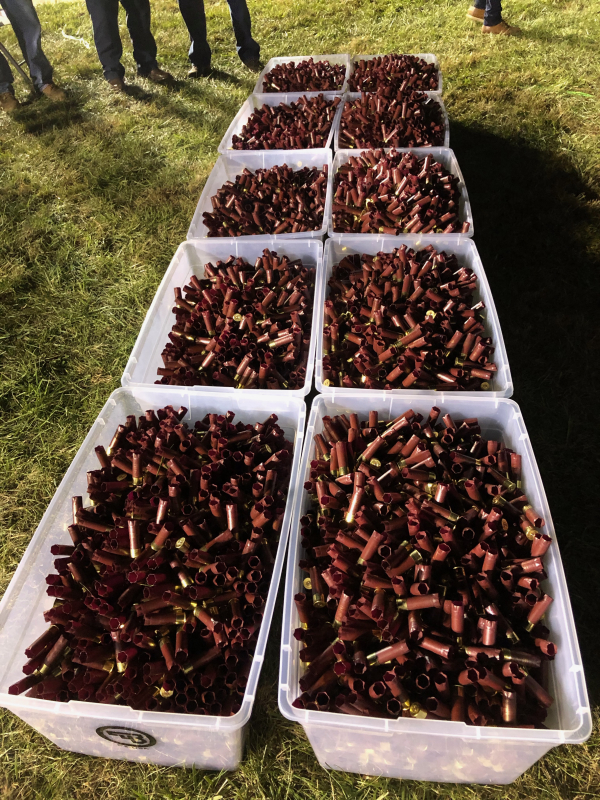 After shooting for a little over 4 hours the original Guinness World Record of 4,602 was beaten. But that didn't cause this team of shooters to slow down at all. Even though there was with a constant wind keeping it quite chilly throughout the day, they persevered. Fingers were taped, thumbs bandaged and hands weakened by loading, they never slowed down. Actually, they shot just as strong on their final hour of shooting.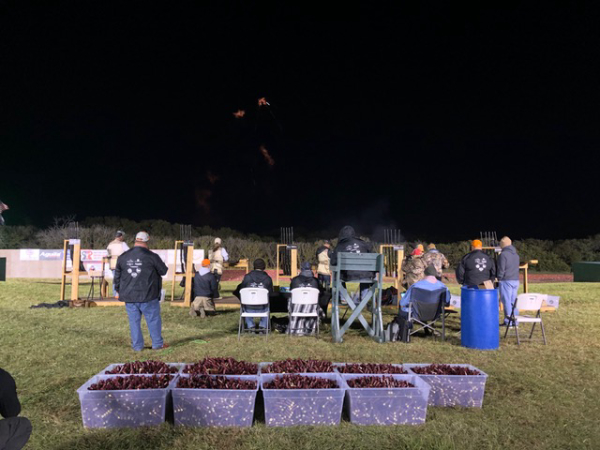 At dusk the clays were switched out to bright pink ones to help the shooters pick them up easier against the dark background. For the push during the final hour flash clay targets were thrown. These gave off a puff of colored smoke when hit giving the look of fireworks in the sky.
When the horn blew at 10:12, ending 12 hours of shooting fireworks were fired, spectators clapped and there were many high-fives and hugs throughout the team. After a few minutes the final tally was announced by an adjudicator from the Guinness World Record. 14,167 clays were hit during the 12-hour period. Amazing!
Asking David Miller about the event the evening before he replied, "This Guinness World Record will never go away for these kids and I'm proud to be part of giving it to them." They accomplished that goal and I think Dave is also on his way toward another goal. about, "I want to make CZ a household name."
—Michelle Cerino