Last time, I'd had a meeting upstairs and got to see out on the shop floor from above. There were a few folks making holsters but quite a bit of space for more to be working. Now, each station was staffed, with holster shells being made, leather being selected per the order sheet for each individual holster, finish work was being done to shells and backers, and assembly was being conducted.
Hundreds of model guns were hanging in the work stations and across a reference wall. I had to enquire about that; are there guns you don't make holsters for?
No particular handgun came to mind, but the consensus was that there had to be guns for which they didn't make holsters. But the product line is comprehensive. I asked how many SKUs (stock keeping units) were in the company's lines.
"Not sure, I'm thinking around 600,000."
Yeah. At least.
What's the key to success? It started from doing something different, as founder Mark Craighead did in 2005, with his hybrid holster design. Combining materials, construction and a desire for comfort and concealability, he refined the hybrid holster concept. He used kydex shells and natural materials – leather – for the interface to the human body.
Nearly immediately, some of the experts out there complained about the design and execution. Consumers didn't notice and quickly made CrossBreed one of the "go-to" holster companies in the industry.
Nothing made by man is perfect. Many things can be "made to work" and, for some situations, nothing works as well as that imperfect product. But that's yesterday. CrossBreed didn't stop when they lost their founder in 2012. They continue product development and diversification even now.
It was the "two-week, try-it-free guarantee," product design with comfort in mind, and a lifetime warranty that made consumers CrossBreed customers for life. Resting on past accomplishments isn't enough.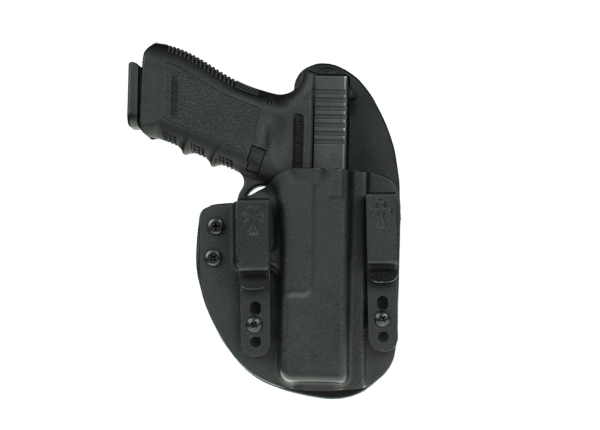 They continue product development with the Reckoning Holster, one I have no experience with. It's marked by adjustable retention, variability in carry – inside/outside the waist, carry in a range of positions from strong-side to front and cross-draw, and a leaner silhouette. The expectation is that an attached magazine pouch, principally for AIWB, is forthcoming.
We can likely expect some changes in existing product lines – stay tuned.
So why do I use CrossBreed so much? First, I like the people involved in the company. Second, I like the product. The simplicity and quality as well as their dedication to consumer comfort has to stand for something. Yes, the leather backer can lean out over the pouch – something I've seen in other designs.
"Speed re-holstering" is a bad idea with any holster and you can ensure the pouch is clear without even looking, if you know how. It's a matter of practice. If you don't, that's not the fault of a product but the fault of a user.
I also make pretty extensive use of CrossBreed Holsters because, as a matter of occupation, I encounter new handguns pretty routinely. One of the holster companies quickest to have product ready for any new gun is CrossBreed.
Nathan Engelking, Marketing Director, said that he can have a holster available within an hour of getting the gun into the shop. This gives CrossBreed a very close relationship with gun makers. Of the pair of holsters available for our use at Gunsite when the Ruger Security-9 was being (secretly) introduced, one was a CrossBreed SnapSlide.
And all that discussion doesn't even include CrossBreed Belts. Their belt line is improved and expansive. Want something plain, something fancy, something travel-practical – and nearly everything in between, check their website. I'm thinking you'll find something you like.
What's next for CrossBreed? They didn't tell me, yet. But when they tell us, we'll tell you.
- - Rich Grassi