Yesterday, shortly after Safari Club International officially announced the cancellation of their 2021 Convention in Las Vegas, the NRA announced cancellation of the 2021 edition of their Great American Outdoor Show in Harrisburg, Pennsylvania. With Pennsylvania's regulations showing no sign of change, the NRA realized the chances of a successful retail show -even one as successful as the Great American Outdoor Show- weren't good.
The Archery Trade Association pulled the plug on the "analog" portion of their 2021 event last week. Outdoor Retailer had already moved its winter show to an all-virtual format.
Wednesday, the PGA of America added their PGA Merchandise Show in Orlando, the largest event in the golf industry, to a growing list of cancellations. It already included the Consumer Electronic Show another staple in the trade show industry.
There are few major shows still showing on the 2021 schedule. SHOT Show is one of them.
And the question nearly everyone is asking is simple: Yes or no?
The answer - right now- is "yes".
But not even the NSSF is saying it's the final answer.
The restrictions in Nevada right now would make SHOT impossible. The current 250/1,000 maximum occupancy regulations wouldn't adequately staff the booths in a single exhibit hall, much less the three major halls and assorted ballrooms of SHOT Show.
But there's still a chance that Nevada Governor Sisolak will relax the restrictions. And Las Vegas hospitality and trade events officials have done their best to convince him it is possible to have a trade show under the same regulations applied to casinos, restaurants and bars in Las Vegas.
They put together a mock trade show at the Sands Expo and Wynn to demonstrate to Sisolak and state and local health officials how events can be held safely under those guidelines. They'd hoped the demonstration would lead Sisolak to apply that 50% capacity regulation to trade/consumer shows.
It didn't. But that doesn't mean the situation won't change.
And it wouldn't take a 50% occupancy rule to permit SHOT to happen. If SHOT was allowed to operate at only 37.5% of capacity, it could still accommodate 50,000 people. SHOT, despite what your jostled body might tell you at the end of a long day, could operate fine under that restriction.
That having been said, NSSF and SHOT officials recognize that the executive orders have to increase dramatically in order to move forward with SHOT.
Which begs the question: is there a drop-dead date on a final decision about SHOT?
Governor Sisolak's office says there will be an update for indoor parameters in November. The NSSF says "at that time we'll evaluate whether those parameters will allow us to move forward with SHOT Show." I'm told that in political-speak that means "after the election."
Meanwhile, NSSF recognizes that potential exhibitors are incurring real costs- booth "build" and potentially shipping to/from Las Vegas.
But their goal is to serve "the overall industry" and that, they say, "requires waiting a bit longer."
While we're all waiting, preparations continue.
Yesterday, I sat in on an exhibitors webinar with Jeff Pressman, ConvExx president and CEO. In it, he laid out the 2021 SHOT Show floor plan, new entrances, one-way aisles, hand sanitizing stations and more.
SHOT Show 2021 will be decidedly different. That difference will now be far more profound than the significant change introduced by the addition of exhibit space at Caesars.
This year, as explained by Pressman, once you enter the SHOT area, you're entering the same kind of "bubble" that has exists around professional sporting venues.You'll be screened going in, watched to assure compliance with mask and distancing regulations, and then directed out so as to minimize as much contact as possible.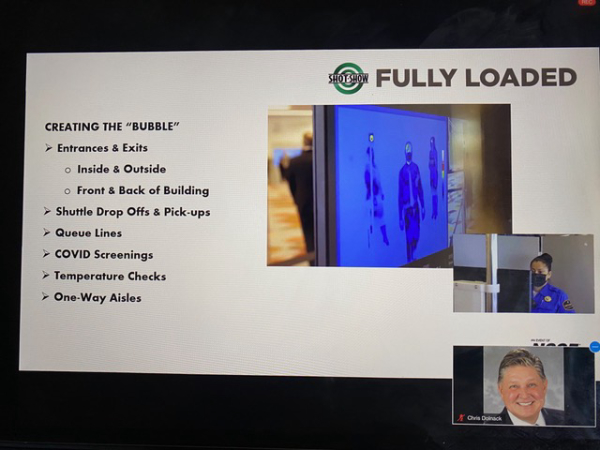 There are many challenges that most of us don't consider. One is the uncomfortable feeling of participating in a salmon run when entering/exiting the SHOW.
This SHOT Show will feature staggered opening/closing hours across the various exhibit halls to minimize contact and the "salmon run" when all venues close simultaneously.
There will also be a far more hand sanitizing stations than ever before. In fact, Pressman said, there will be stations "approximately ever 50 feet" through the entire exhibition area.
The potential for the all-too-familiar SHOT Show gridlock, that point where people seem to congregate and stall throughout the show will also be minimized.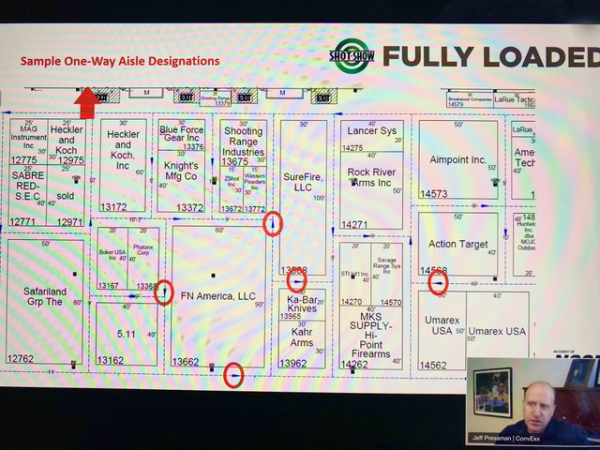 During his presentation, Pressman reminded exhibitors the new one-way aisles may mean reexamining or adjusting their booth setup so as to compensate for directed traffic flows.
Before yesterday's webinar got rolling, the NSSF's Chris Dolnack, addressed the SCI and NRA/Great American Outdoor Show cancellations made yesterday.
"We're aware of the cancellations," he said, "but we're going to ask your forbearance because the governor's office in Nevada indicates there won't be any additional guidance or changes in the regulations until November."
Apparently, everyone will be waiting - and wondering - about SHOT - at least a few more weeks. But anyone considering attending should realize that the occupancy regulations apply to hotels and restaurants. Places that are normally crowded may be less busy, but their capacities will be limited as well. If you have reservations, you'd be playing the long game by hanging onto them a bit longer.
We'll keep you posted.