Halloween seems a suspect time to write an evaluation piece on much of anything. Like April 1, there's the risk that you'll waste your time reading a phantasmagoric review of a new product, put it atop your "I need this" list, then discover it's a writer's prank.
Not today. At least not here.
NASGW just wrapped up their 2022 Annual Meeting & Exhibition. Without any Halloween hooey, I'll offer a single Halloween metaphor: for me, NASGW 2022 appeared to be all treat, no trick.
The event, despite Kansas City's apparently auditioning as the location for the next "city where no one lives" movie, was a good one. Good attendance, good atmosphere, and most importantly, good business.
The Convention Center, and the buildings surrounding it in the Power and Light District, are architecturally impressive. Spatially speaking, it seems more than sufficient to host a major trade event like SHOT Show. It's massive.
But there's one glaring shortcoming: insufficient hotel capacity to accommodate major events.
As explained to me by one convention center official, that deficiency has cost the city an NCAA Final Four, the National FFA convention and "a bunch of other major events, conventions and trade shows."
Fortunately, NASGW doesn't need thousands of rooms. Attendees and exhibitors number in the hundreds, not thousands.
But those hundreds of buyers represent the potential of tens of thousands of units in sales volumes. It's not an exaggeration to say a small company can literally make its entire year at NASGW with a single buy.
Talking with Kenyon Gleason, NASGW's top exec, the pride his organization takes in its event is obvious. So, too, is the thought and planning they put into maximizing the results of attending.
That thought and planning includes a willingness to adjust the exhibition size to accommodate the market. The NASGW's response to the loss of a number of distributors -and their buyers- was to slightly downsize the show. They recognized that not every buyer could see everything new while meeting with existing suppliers. That lack of time might prevent their having time to check out new exhibitors. So…they limited (slightly) the new exhibitors. That's considering both sides of the transaction.
Despite those limits, there were lots of new companies exhibiting. In one effort to help them tell their stories, NASGW held pre-show introductory events each morning before the official show opening.
Think "speed dating."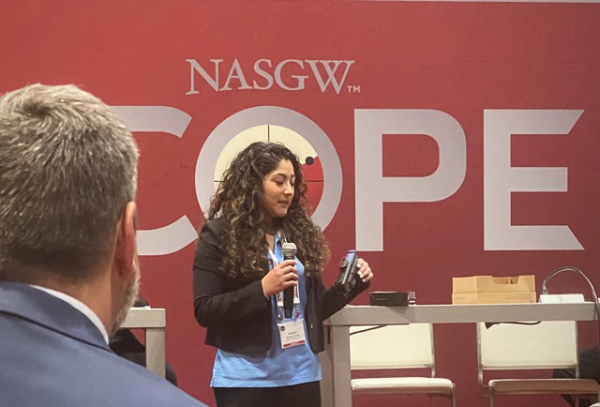 The companies had three minutes (timed) to show a product/products, explain features and benefits, then invite buyers to come visit their exhibition booths to learn more. It's an interesting way to sample new products -and one we'll be adding to our tool belt in the future.
After Thursday's session, I left with solid information on each company presenting during the session. Thankfully, not just from their presentations and my notes. The volume (and quality) of presentations varied greatly. That's not helpful for a guy whose hearing varies from bad to non-existent.
But the NASGW staff provided New Exhibitor Profiles. They gave insight to help me decide whether I wanted to visit their booths - or not.
You'll be reading about several of them in the future. Some not only piqued my interest in their new products, they convinced me they'd be worth testing and reviewing.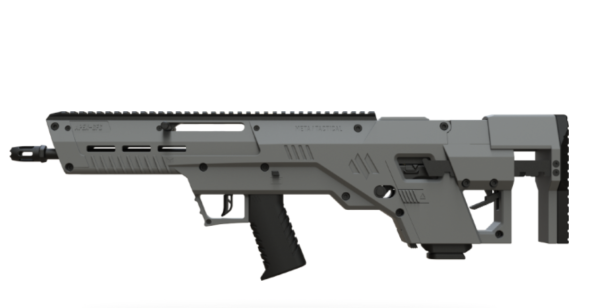 The information was particularly targeted toward the potential wholesale buyer. From a projected percentage of their sales through wholesalers to distributor margins, MAP/MTP pricing, to initial and ongoing order amounts, the information was designed to help them decide whether or not to buy. But the insight into their core product price ranges, web addresses, promotional support, and "current manufacturers you consider a competitor" the questions are directly in a reporter's wheelhouse.
Finding out a new company/product exists is one thing. Knowing what they make, what it costs and who they are selling against makes it far simpler to estimate their chances at success.
And those new exhibitors represented a yeasty-mix of products. From $30 belt pouches to $14,000 full-on custom precision rifles.
The kind of product mix that solid retailers would want and distributors and wholesalers might want to carry.
New products can certainly energize existing customers -and bring in new ones- even in an uncertain time when the industry's trying to determine what will be the "new normal".
As always, we'll keep you posted.
— Jim Shepherd