Today's feature is from our companion service, The Tactical Wire.
---
XS Sights should be well known by all readers here. They offer sights for about any platform, in a variety of configurations. XS recently released a version of their R3D sights for the Springfield SA-35 Hi Power. The SA-35 is a great pistol. With the addition of the XS sight it scores high in every category. But wait, there's more. It's a surprising twist – and maybe a Tactical Wire exclusive – they also fit another brand of Hi Power.
XS began life as Ashley Research & Development. Ashley Emerson decided to manufacture "better" sights for handguns and field/hunting rifles. He teamed up with Ed Pastusek – A&E Mfg. – which after several evolutions ended up as XS Sights. Today they provide sights for almost everything, and are best known for their work with tritium sights.
There's a good reason XS produces sights for the Springfield Hi Power. First, Hi Powers are more popular than ever. Springfield is building as many as possible, and is still trying to meet demand. The SA-35's factory sights are nice but have no tritium. XS has met this need, and of course, you know they only produce quality products.
The arrival of the XS sights presented a problem. I have a SA-35 but, very early on, modified it to take an XS sight. There's no going back so, I wasn't sure what to install the new sights onto.
Ben works with me in the shop. While comparing Hi Powers, his is a Tisas BR-9 clone, we noticed that the dovetails on the Turkish pistol's sights looked very similar to those of the XS sight. They were so close that we decided to see how the sights fit.
Having the proper tools for the job is essential when working on pistols, especially sight swaps. Yes, you can use a hammer and punch. There's a good chance you'll damage both sights and pistol. Alternatively, you can get a sight tool (a jig to lock everything into) and push sights out and then in with some precision.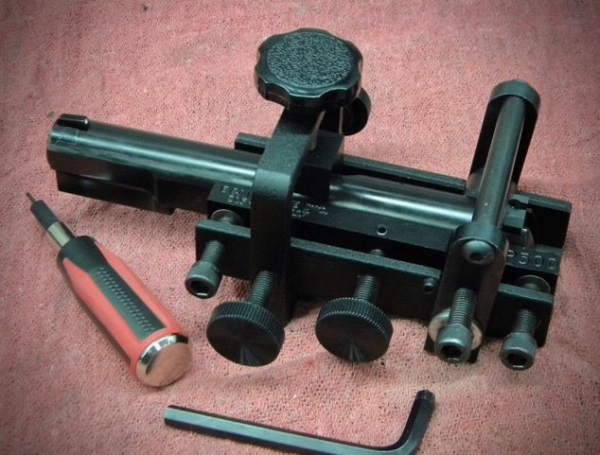 I use a setup from B&J Machine; Brownells carries them. Over many years and a multitude of handguns it's never failed me. The rear sight on the Tisas was tight. There's no way a hammer/punch would have driven it out successfully. The sight tool pushed it out cleanly, although there was a very loud "pop" once it broke free.
While the XS sights did require a little polishing and honing to fit the Tisa slide it wasn't anything out of the ordinary. It's not uncommon to have to perform a little fitting. After that, they mounted up with no problem.
The modifications you perform on a defensive pistol are limited by two things – money and imagination. Since the majority of us work with limited budgets that leaves us a whole lot of room to focus on being creative. In this case, the creativity was in fitting sights made for one pistol to install them on another … one which nobody makes tritium sights for.
Your budget doesn't have to be the only factor when considering how to make things better. A creative response can work just as well as "store-bought."
Tiger McKee is director of Shootrite Firearms Academy. He is the author of The Book of Two Guns, AR-15 Skills and Drills, has a regular column in American Handgunner and makes some cool knives and custom revolvers. Visit Shootrite's Facebook page for other details.