Today's feature is from correspondent Matt Berger.
Back in about May of 2019, I received an
IWI
Jericho 941 pistol in the mid frame for testing and evaluation. For some time, I've been a fan of single-action semi-autos…particularly 1911s and CZ75 variants. I was highly impressed with the pistol's fit and finish, ergonomics, excellent single-action trigger, and the ease with which it could be fired accurately. The honeymoon has yet to end, and it has, in fact, become my favorite carry pistol. The next logical step was to have it further tweaked to accommodate personal taste.
One thing I definitely wanted was checkering on the front and back straps. One day, while searching Jericho pistols on Instagram, I stumbled across some photos posted by Tom McEnroe of
TXT Custom Gun Works
of Plano, Texas. The photos were of a Jericho from which he'd removed the accessory rail, reduced metal in other areas, and cross-filed the vertical serrations to form checkering.
I quickly got into contact with Tom, and discussed the idea of a custom project on the Jericho for an article. He didn't hesitate for an instant to accept the project, and wasn't fazed by my interest in the checkering work. We discussed that, as well as further reducing the area under the trigger guard and melting the guard where it contacts the ring finger, reducing the area under the rear grip tang, and giving the whole pistol a carry bevel. For the first time, ever, I was so happy with the single-action trigger of the 941, I actually requested that he leave the ignition parts as-is.
I'm also a big fan of hard chrome as a finish for pistols. Hard chrome is aesthetically pleasing, very durable and corrosion resistant and very hard on the Rockwell Scale- harder than the steel of the pistol. The added benefit of this hardness is not only wear resistance, but it actually causes the action of the pistol to progressively smooth out the more you shoot it… both in terms of the slide/frame/barrel action, and the trigger/ignition parts as well.
I reached out to Bob Cogan of
Accurate Plating and Weaponry
. A fixture in the industry since 1977, APW's reputation in the field is stellar, and friend Massad Ayoob also spoke highly of his work.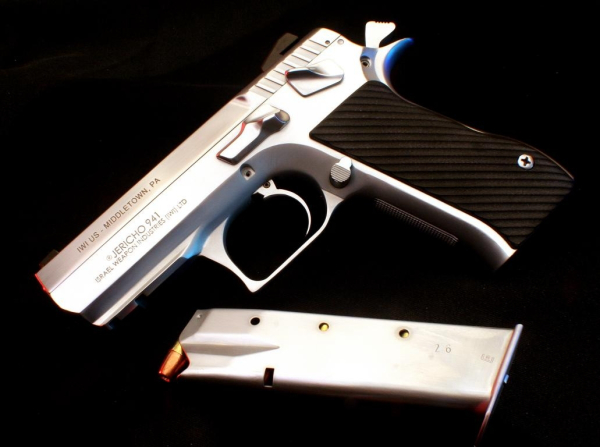 Bob was extremely personable. Not only did we discuss finish options, but Bob made recommendations, educated me about the plating processes, asked me if I wanted gunsmithing services as well (they have skilled craftsmen) and talked of firearms and the state of the industry in general. We agreed on APW finishing the pistol in hard chrome with brushed flats and matte rounds, and installing night sights before sending it back.
Off it went to Tom at TXTCGW. Tom finished the pistol in less than three weeks, and sent me photos of the metal work he'd done. Photos being limited, it looked exactly like what I'd asked for. He shipped it to Accurate Plating and Weaponry from there. I'd already sent a set of three-dot night sights from
Meprolight
. The plating was done in just a few weeks, but there was a minor problem: Their gunsmith had been unable to locate a tiny spring and plunger for the mag catch. Tom didn't have it, and it somehow slipped through the cracks. It would be a few weeks before I could obtain the replacement spring and plunger.
When Accurate Plating and Weaponry returned the pistol, I was very pleased. The trigger guard was relieved where it met the front strap, and melted where it contacted the ring finger, and likewise, metal had been reduced under the grip tang. The serrations on the front and back strap had been cross-cut to cleanly form checkering that came out to approximately 21 lines per inch. The slide-to-frame fit was cleaned up, and the entire pistol had all the sharp edges knocked down. All in all, it was an excellent execution of my vision for the pistol.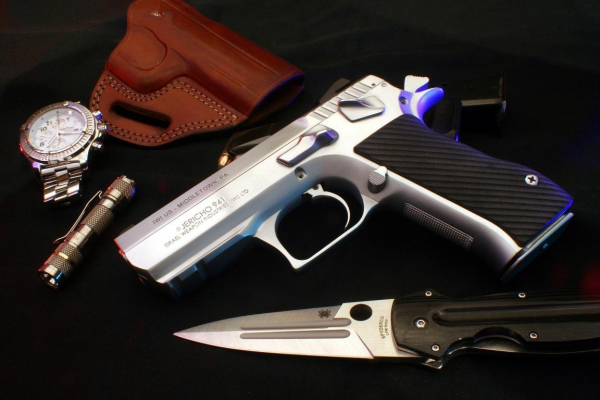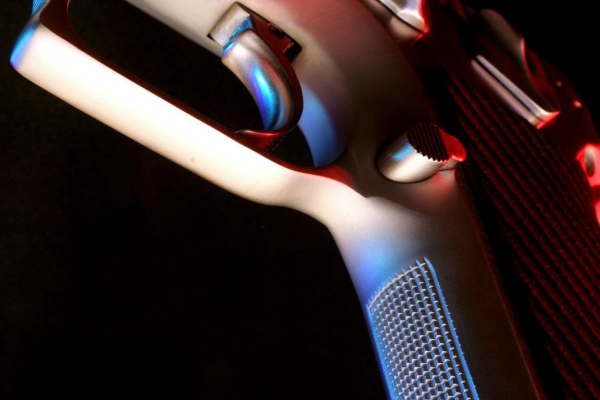 The finish was top-notch as well, with brushed flats and matte rounds, as I'd requested. The Jericho has great ergonomics out of the box, but with the extra material removed under the trigger guard and grip tang, it sat even lower in the hand, and it was much more comfortable on the ring finger, an area I've found is irritating with most pistols after a high round count at the range. The Jericho already has enhanced controls, namely the slide stop, mag catch, and thumb safety.
The Jericho's biggest shortcoming are its grips. They are very thick, and molded from hard plastic. The pebbling texture does little to improve the feel of these large, slippery panels.
I opted for a set of panels from Lok Grips, choosing their Ridgeback style, in black. These are G10, and with their significantly thinner profile, and aggressive ridged texture, and improve the feel more than one would expect. They're also aesthetically pleasing to the eye.
Performance
Accuracy testing was from a bench-rested position at 25 yards. The best groups (Both of two inches) came from Black Hills 124gr. FMJ and some very old Magtech 124gr. FMC I had on hand. This was followed by Federal's Tactical 124gr. JHP, which went into 2.63 inches, and Hornady 124gr. TAP CQ, at 2.75 inches. Blazer 124gr. FMJ grouped into three inches even.
Felt recoil was very light, owing to the flat-shooting, light weight 9mm, and the full steel construction of the Jericho which dampens recoil, and the low bore axis. Quick follow-up shots were very easy. The mid-length of the pistol made it quick out of the holster and quick onto target. The Meprolight sights are quick and easy to pick up with the eye, and very square in their profile, which added to the ease of achieving quick sight alignment while presenting no sharp edges to snag clothing.
Luke at Craft Holsters was kind enough to send me one of their rigs for my tests. I was pleased when I received a well-made pancake holster constructed of 7oz cowhide. It was precisely formed to the pistol with a forward cant, creating the tension needed for retention, stiff enough for re-holstering, carefully double-stitched and handsome in appearance. Available in black and mahogany, this is a quality holster at a great retail price.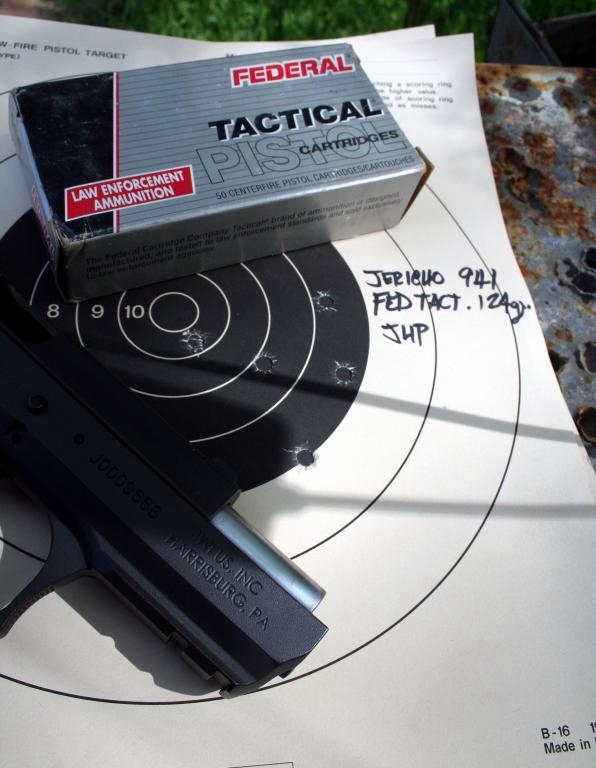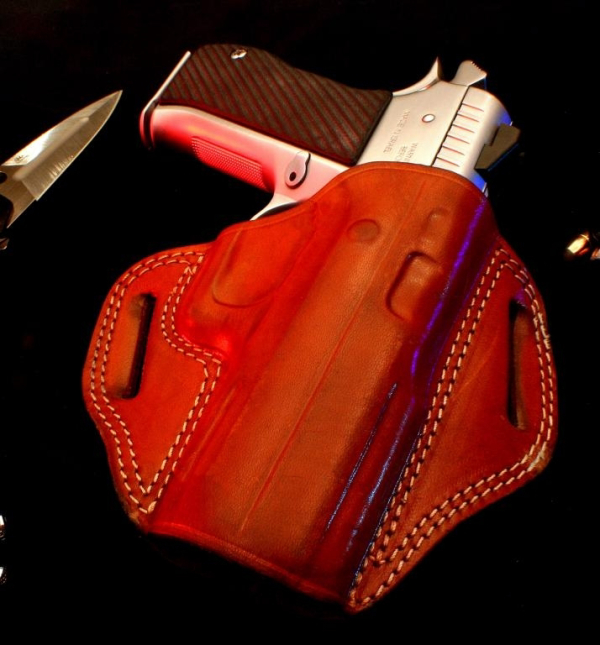 Reloads were quick and easy owing to the large mag well and truncated magazines inherent to the design. Also, more often than not, the slide would ride home after the magazines were aggressively slammed into the pistol, making loading even faster.
I experienced zero failures to feed throughout my testing of the Jericho. I ran some of my Mec Gar +2 magazines I have on hand for my CZ and CZ "type" pistols in the Jericho; they also fed flawlessly, however, they did sometimes fail to lock the slide after the last round was fired.
The triggers on most CZ and CZ-patterned pistols will smooth with use, both for the double and single-action pull. However, the Jericho's single-action trigger is nothing short of amazing. The triggers of CZ-patterned pistols have the feel of a rolling-break in single-action, as opposed to a crisp, linear type. In my sample pistol, the single action trigger had about 1/8th inch of slack before resistance was felt, then about another 1/8th of creep until the trigger rolled into nothingness and broke at 4lbs. Reset occurred after letting the trigger back out about 1/4th of an inch.

Conclusion
All told, I am extremely pleased with the metal work Tom at TXTCGW performed, the improvement made in the ergonomics of the pistol, as well as the aesthetics, and would trust future projects to him. Likewise, Accurate Plating and Weaponry, in business 44 years, have perfected their craft, and I couldn't be happier with the finish of this pistol. I can already feel the action and trigger getting smoother since the Jericho got hard chrome. When they finish a pistol, they plate every part possible. They also plated the magazine I shipped in the gun. APW also does amazing checkering and other treatments such as stippling, and their "Jaguar" treatment for front and back straps.
Alas, while I will sing the praises of the Jericho 941 being a fine pistol, after trying to arrange for parts from IWI, I was unable to obtain the missing plunger and spring from them. I had to source the parts from Numrich Gun Parts to complete this pistol.
Specifications
IWI Jericho J941FS9
Model Number: J941FS9
Caliber: 9mm Parabellum
Action: Semi-auto
Operating System: Short Recoil
Magazine Type: IWI, Steel
Magazine Capacity: 16 Round
Barrel Material: Cold hammer forged, CrMoV
Barrel Length: 3.8″
Overall Length: 7.6″
Weight: 1.95 lbs.
Rifling: 1:10 RH, Polygonal
Sights: Drift adjustable combat sights
--- Matt Berger is a police officer and writer living in central Oklahoma. Currently serving as rangemaster for his law enforcement agency of 30+ years, he has been a police firearms instructor for 26 years, an advanced CLEET instructor, and his experience includes service in the Marine Corps and 13+ years as a SWAT operator.