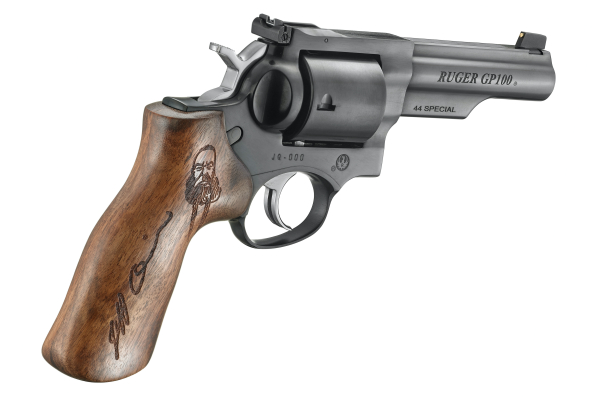 A Class Act: Ruger announced release of the Jeff Quinn Memorial GP100 revolver, a cooperative effort with Lipseys, to honor Gunblast.com founder (as well as friend, colleague and all-around good guy) Jeff Quinn. Jeff passed away last year. A polished blued GP100 44 Special fitted with a Hogue walnut stock that's engraved with Jeff's signature and iconic dual-braided beard motif, it was Jeff's idea of the "right" version of the five-shot 44 revolver. It features a high-polish stainless hammer and trigger, a non-fluted cylinder, 4.20" half-lug barrel and gold bead front sight. Only 500 of these exclusive revolvers exist, each featuring a unique serial number. The big news isn't an honor for a friend, it's the objective: A portion of the proceeds -- $20,000 according to a video from Lipsey's – will be donated to Jeff's favorite charity, Bikers Who Care. BWC is an organization of Motorcycle Enthusiasts dedicated to supporting The Dream Factory of Clarksville, TN by fully sponsoring Camp Rainbow, a summer camp for seriously ill children, among several other local children's charities.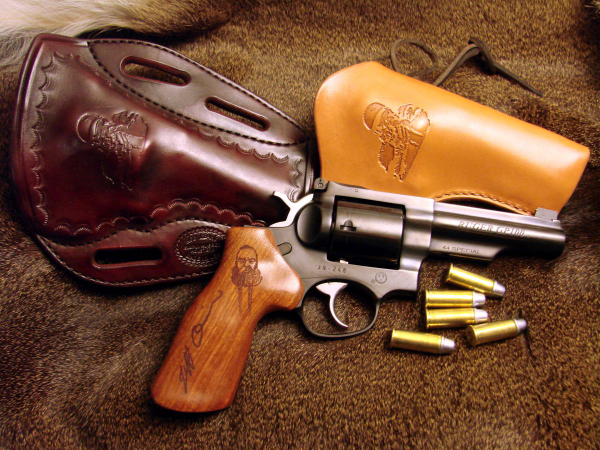 Regarding that special revolver, Rob Leahy of Simply Rugged Holsters is offering a pair of holsters at a special price to those who buy the Jeff Quinn Memorial revolver. These two holsters have the "Jeff stamp" on them – taken from the same picture that Lorin Michki used when painting his portrait of Jeff. The Eldorado is a Western-style rig with open bottom, traditional belt loop, and traditional hammer thong. The Sourdough Pancake is a pancake-style with open bottom and thee 1-3/4" belt slots for either 15-degree or 45-degree (crossdraw) cant.
A Culture of Generosity: The generous legacy of Jeff Quinn is no surprise to those of us inside the industry. The outdoors industry is one that is heavily involved in corporate citizenship. The National Shooting Sports Foundation, the trade association for the firearms industry, has a wide range of initiatives, most recently including work with the American Foundation for Suicide Prevention and Department of Veterans Affairs to prevent firearms suicides. Along that line, another organization, Walk The Talk America, is a non-profit organization seeking to bridge the gap between the firearms industry and gun owners and the mental health establishment. We have a lot to be thankful for and we like to help others – these critical initiatives is just a small part of the total.
Field Reports: An associate stopped by a reputable police supply house, which remains unnamed for this story. It seems that since the "2020-2021 Ammo Drought" began, commissioned law enforcement officers and retirees could buy one box of duty ammo and one box of practice ammo per month – until now. Until further notice, the policy is "buy a gun, get a box of ammo." No one wants to buy a gun they can't feed … but they can only feed it for that box of ammo, because there's no more to be had. As to where it's going, there's a Federal podcast (reported here on Friday) about the ammo shortage. The situation may not get better very quickly.
Dry Practice: Meanwhile, there's a question – 'how to remain proficient' – when there's no ammo. Application manufacturer Team Mantis announced their "Laser Academy" system. Using a laser training cartridge that drops into the chamber of your firearm, it projects a laser when the hammer or striker hits the laser module. The Laser Academy app records hits and misses, scores the 'target,' provides guided drills, and complements the existing MantisX system. The company advertises 14 modes and promises more to come, to provide variety and keep your training routine fresh.
-- Rich Grassi