I've heard the rap for decades, long before the "cool kids" were out and amongst us: carry the same gun in the same place every day, no changes – or, in the "moment of truth," you won't be up to the challenge.
I'm more in the "it's a gun, know how it works, be able to pick it up, check its condition, shoot it if necessary" camp.
Mostly.
I recently found out why someone with a broad experience in defense handguns can have a clear advantage when shooting has to be done and the shooter's mind just isn't on the task. It was a reminder of a vastly worse time when a mental crash coincided with serious training I'd only get once in my life: I had to operate on auto-pilot.
This time it was the annual retirees' range qualification. For whatever reason, I just wasn't "in the moment." It's not the smartest way to be, but it happens sometimes.
This time, I marched out to do the auto-pistol phase (I dual qualify, as a revolver is a constant companion too), I settled in and shot without a lot of thoughtful consideration.
I wish I always shot that well. And that's a gun that recently proved to me that familiarity is in no way enough, reported on here.
So why shoot it now, on this "for record" course?
I'm blessed with knowing a number of folks who're far smarter than I. One is Stephen Wenger – who has a very well rendered and educational website. One of his smart ideas is having duplicate guns. He says it's a good idea to have a (near-) exact duplicate of your carry gun for the eventuality that it'll need to go to the shop for work, get seized in the aftermath of an incident, etc. –
"I recommend acquiring at least one duplicate of any "serious" firearms in your self-defense plan. If you are forced to shoot someone, the gun you use will most likely vanish into an evidence locker, possibly forever. In a "kinder and gentler" world, one of your carry guns may still need to go in for repair. In such cases, it's really nice to be able to pull a duplicate out of the safe, slip it into the same holster and know that the reflexes you've already honed do not need to be re-tuned."
See? I told you he was smart.
As noted in the previously linked story, this gun was the Gen4 G19. Received in around 2012, it was meant to be the primary carry piece in place of the Gen3 GLOCK 19 from 2001. As received, it took nearly four years and some parts replacements to get the gun sorted out.
The fire control parts were replaced with the Glocktriggers.com duty trigger, the "Guardian." I took the opportunity to add the Apex Tactical Glock 'Failure Resistant Extractor' to ensure reliable function.
As someone who writes about guns and the products to enhance them, I sometimes get the opportunity to evaluate new gear. Added to the above, I installed a Vickers slide stop, magazine release button (and magazine floorplates). Much later, I had the opportunity to try new sights from Trijicon, their "dual illumination" (DI) sights. The front sight has a tritium vial – but between the tritium and the user's eye, there's a heat resistant fiber optic tube. In daylight, the front sight is easy to see – just like during hours of diminished light.
In 2017, the gun was replaced by the newly announced Generation 5 GLOCK 19. It's nearly stock, the sole exception being the Talon Grip treatment which gives my diminished grip a bit more traction.
See a pattern here?
Without even noticing much of anything, I went out, followed the range officer's instruction, fired some aluminum case 115 gr. 9mm (CCI Blazer) – and shot about the tightest cluster of the past several years. Everything just "felt right." It's tough to quantify that.
Aside from a backup gun, the tiny revolver – mostly the S&W M&P340 or Ruger LCRx – the GLOCK 19 is the most carried handgun for me. In second place, it's the S&W Shield. "Dupes" – or practical duplicates – are available for each.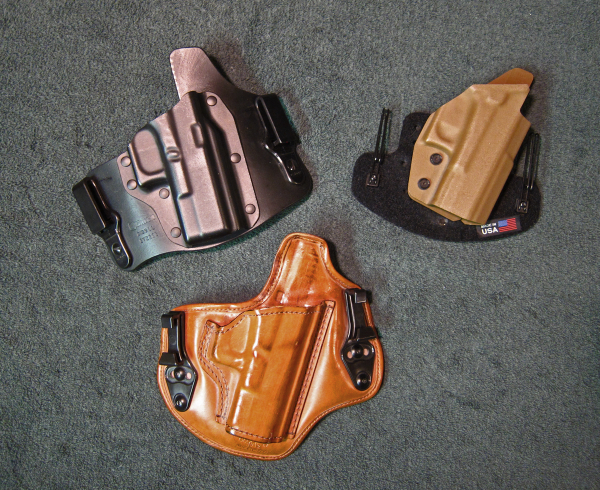 During the qualification, I operated from a Galco Extremetuk IWB Holster – I suppose it's now replaced by the KingTuk Cloud. It is very similar to a few other holsters -- the American Purebred IWB from Massaro Holster Works and the Bianchi Allusion Model 135 Suppression, a version of which I've used for a number of years; a current issue version of that Bianchi rig is on my person as I write this. Earlier today it was the Massaro American Purebred. Each fits in the same place, works the same way – and, at the annual retirees' get-together, saw me clean the qualification course. It was reflexive.