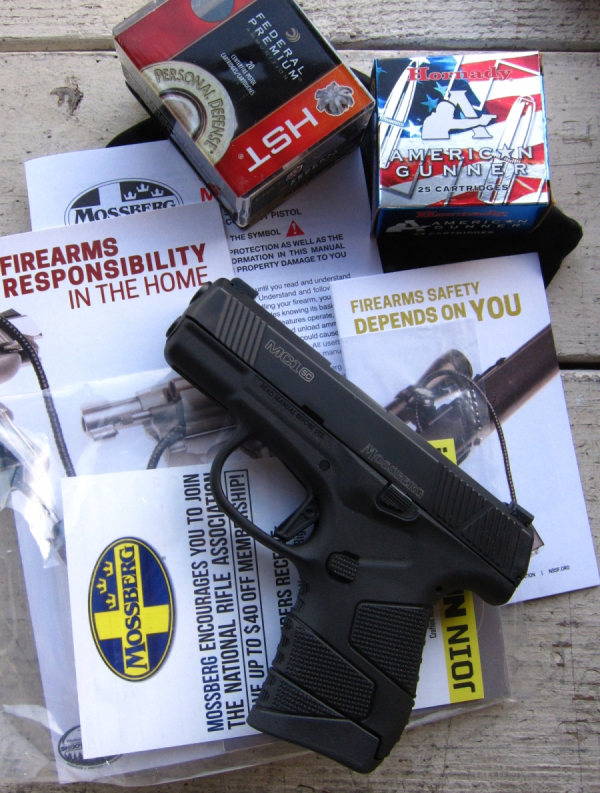 The news has been out about the Mossberg pistol – the second to achieve full production in Mossberg's long history. There's nothing here new about it except the shooting. For those who have been "out of the country," here's a precis of the new gun.
It's a 22-ounce (loaded), subcompact, striker-fired polymer frame 9mm pistol. The glass-reinforced polymer frame is solid and features palm swells and a distinctive grip angle. The magazine release is reversible and the frame has a unique texture. The slide is constructed of stainless steel with "Diamond-Like Carbon Coating" for a finish – the 3.4" stainless steel barrel has the same finish. The slide serrations are described as "multi-angle," a good description.
The "Safe Takedown System" simply features a special striker cover plate (a patent-pending design used under license from Strike Industries) that you can easily remove and replace, allowing access to the striker. Remove it, the striker and the slide can be moved forward off the frame. You don't have to pull the flat-profile trigger – another interesting selection – to disassemble the piece.
The magazines are referred to as "Mossberg Clear-Count" units, supplied in 6- and 7-round capacities. The sample had factory-installed TRUGLO Tritium PRO sights. The gun is available in a Centennial model, as well as with/without night sights, with a cross-bolt safety and with a factory-supplied Viridian laser.
The gun was fired for accuracy from 25 yards. The measured five-shot groups are listed as well as the "best three of five," allowing me to weed out my errors in grip, trigger and vision. You care about how accurate the gun is, not how well I can shoot it. I also noted variation in point of impact relative to point of aim.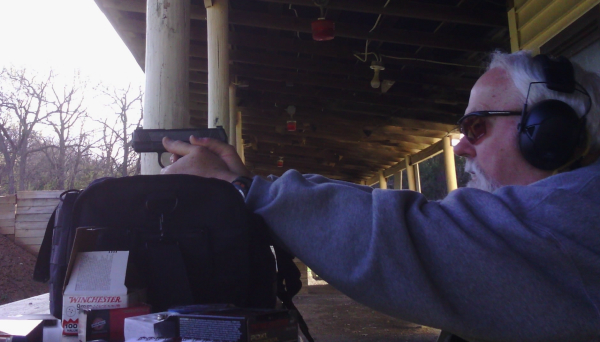 | | | | |
| --- | --- | --- | --- |
| Load | 5-shot group | Best 3/5 | Point of impact, notes |
| Winchester "White Box" 115 FMJ | 4.5" | 3 ¼" | 3.5" low, center for windage |
| Winchester PDX Defender 147 | 4.75" | 1.75" | 2.5" low, center. Best 4 in just under 3" |
| Ruger ARX +P 65 grain | 5.5" | 2.5" | 4" low, 2" left. 1 failed to carry up* |
| Fed. Premium Micro 150 HST | 4 ¼" | .75" | 3 at sights, 2 low. |
| Hornady Critical Defense 115 FTX | 2.5" | 1.5" | 4.5" low |
I used the "short magazine" – flat floorplate – with the Ruger load and wonder if I didn't create the stoppage that prevented one round from carrying up to feed – perhaps interfering with the magazine release button. It's the only time it happened – on this range trip. There's more to come on this stoppage.
The Mossberg MC1SC is a very personable little gun, not at all abusive to shoot. It requires no stippling aftermarket and seems to need none of the grip tape treatments – at least for me. The Federal Premium Personal Defense Micro 150 HST and the Hornady Critical Defense 115 grain FTX were both easy to shoot and quite accurate in the tiny heater. Interestingly, Winchester's bulk ball ammo, the "White Box" 115 grain FMJ loads easily functioned through the little gun and was plenty accurate enough for range practice.
Without my interference – as in a machine rest – this gun could likely produce regular groups of two-inches or less depending only on the individual sample gun's ammo preference. I found it interesting that 147 grain standard pressure defense loads still shot around two inches low at 25 yards while the only-slightly heavier HST Micro hit at the sights.
The sights and trigger are very good.
The Mossberg MC1Sc fit inside a BlackPoint Tactical OWB received to use along with the nice GLOCK 48, establishing another neat fact about the Mossberg pistol: it fits GLOCK 43-ish holsters. At that time, I wasn't sure that G43 mags work in the new pistol but had it on good authority that they did. I was to find out at the LEOSA (law enforcement retirees' range) that G43 mags are good to go, as I found out running the little gun in a new comparative standards course meant for snub revolvers. You'll soon see that story on our companion service, The Tactical Wire – if you subscribe.
- - Rich Grassi