It's that time of the year again when a day after giving thanks for all our blessings, we look to some good deals – or just good gear – to buy friends and loved ones for the upcoming holidays. This list is geared to shooters and gun owners generally.
And it's not all inclusive, just stuff I saw that was interesting and served a purpose.
Discretion
A gift you might consider is the gift of stealth. When transporting your preferred Vang Comp Systems shotgun, you could draw unwanted attention. To deter that, Vang Comp offers the VCS "Chair Cover" Discreet Carry Bag.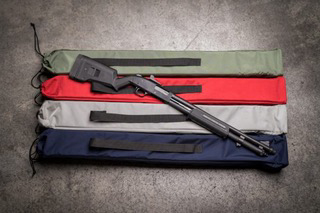 At around $75, it's built to blend in with outdoors activity gear – not to store the gun. The padded cordura case isn't meant to prevent rust, alas. It's padded and it doesn't come with a camp chair. The case is 5″ x 5″ x 42″ internally, and will fit long guns with up to 20″ barrels with 14″ stocks and everything that is shorter.
It's made in the US for Vang Comp Systems exclusively by TUFF Products – who has some other nice gear. The Vang "chair cover case" is here: https://www.vangcomp.com/product/vcs-chair-cover/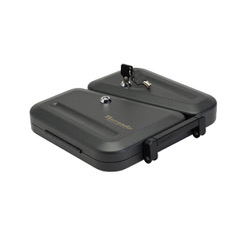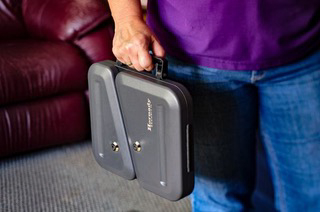 Less discreet but providing security is the Hornady Security Dual-Lid Lock Box. Coming in at just under $60, it provides locking space for two handguns or a handgun on one side and ammo safely separate on the other side. It has a carry handle for transport and may be an option for air travel. The locks are keyed alike – one key opens both compartments. See it here - https://www.hornady.com/security/lock-boxes/dual-lid-lock-box#!/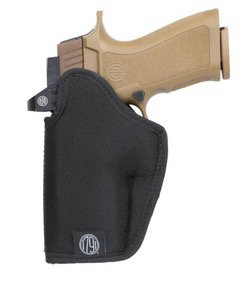 Wearing a gun discreetly concealed? Look at 1791 Gunleather's Premium Ballistic Nylon Holster.
Providing an integrated sight channel, the new nylon rig comes in five sizes (with sizes 3-5 offering an optics ready cut) and is a clip-on inside the waistband holster. The nylon material has a tighter weave than most – enhancing comfort and minimizing the chance to snag -- and they bring it to the table for "Less than $30." https://1791gunleather.com/nylon-holster-sizes/
Wearable
While we're talking about discreet carry, what about the least considered aspect of that aspect of life – the belt?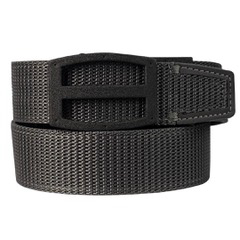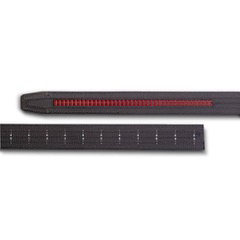 Buying someone a belt wrecks the element of surprise due to the requirement that they fit – so we have the "No-Holes" Belt from Nexbelt – I'm currently looking at the Titan Grey PreciseFit EDC Belt.
A belt for concealed carry requires enough stiffness to carry with gear without sagging, but it needs to be comfortable and fit well too. Nexbelt may have cracked the code on this problem.
The typical belt has holes spaced an inch apart for fitting. With a "ratchet belt" – like this one – the buckle locks onto the interior "teeth" of the belt which are much closer allowing for flexibility in fit (something to consider when over-indulging in calories during the coming festivities.)
The belt I selected has a "granite black" powder-coated buckle with a clasp held by two set screws – not pins. It runs just under $62.
You can check them out here.
Some DIY Sight-Changing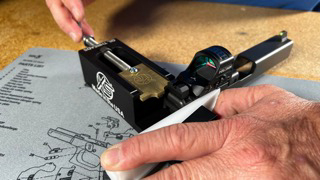 If you're ready to spend a bit more on someone who's mechanically inclined, you could take a look at the new, soon-to-be-available Inline Sight Pusher Kit - Glock - DIY Series from XS Sights. Not 'bargain basement' cheap at $150, they say it'll be ready for shipping in December.
It's made for the Glock owner who has a number of pistols in need of sight upgrades. While this is a manufacturer specific kit, the company says that the user "can easily complete a wide range of sight installs on all Glock slides and install optic/suppressor height sights. The DIY-Series also allows sight installation or windage adjustment on slides with an optic mounted on the pistol."
The tool features an open-top design; there's a measuring scale built-in for precision windage adjustment. The kit includes the tool (a rear sight pusher), a front sight tool for screw-in sights made for Glock pistols, some oil and threadlocker.
It appears to be a simple device. You can take a look here – and get it ordered early.
Buying Local
Not after specialized gear or having to order it online from a distance? If you know your recipient's caliber or firearm type, buying a spot of ammo or a few spare magazines from a local emporium may be the way to go. Shooters never have "too much ammunition" or "too many magazines."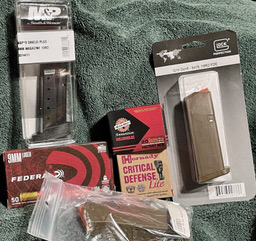 Be cautious of local customs if your recipient is not from the same city/state you are: some places are fearful of "boxes containing springs" (magazines) and there are capacity limits for normal folks.
There are local gunshops to browse. Likewise there are chains, like Academy Sports + Outdoors and, to a smaller degree, stores like GT Distributors. Both of those chains also sell online.
We're done for this week – no wires tomorrow or Friday – so our people can spend time with family and friends. From our group to yours, Happy Thanksgiving.
-- Rich Grassi