The slowfire score was 95/100, which could have been better. I fired it cold, first shots fired of the day. The first round was low in the '8' ring. I held up a ways to finish. The second test was Justin Dyal's 'Five Yard Round-Up,' an excellent warm-up for close, fast shooting. I shot everything in time, 2.5 seconds par, with a 99/100.
That was no surprise for this three-inch 'super snub.' Since it is super, I next tried the HiTS Super Snub Test. Meant for five-shot guns and fired at ten, five and three yards from low ready, I completed the course with a 145/150. I'm happy with that score, not that I wouldn't want to clean up that "8" and pair of close "9s."
Finally, the Snub Bill Drill – again for five-shot guns – was fired with a time just under 2.1 seconds. The score, as I shot it on the B-8 repair center, was 49/50. One convulsive clutch gave me a '9,' but I'm taking that score happily too.
So what does that mean for the K6S 3in. DASA as a carrying gun? Well, other firearms of a different class cost less, hold the same or more ammo for the same – or less - weight. If all you're interested in is efficiency of gear and purpose, one of those other guns should do.
If you find the double-action revolver trigger minimizes your likelihood of post-ignition push, flinch, "lack of adjustment in the trigger control nut," etc., then this gun lays them in there. Fifteen yards isn't far and doing the slowfire precision from 25 yards is well within this gun's area of expertise. In fact, it'd be interesting to redo the old 50 yard stage of the PPC (four positions, 24 rounds, from the draw, including reloads every six rounds, all in 2 minutes, 45 seconds on a silhouette overlaid with the ISU scoring rings – the NRA B-27). I think this gun could keep all those hits inside the "8" ring – all that's needed for maximum scoring on the "qualification" mode of the target.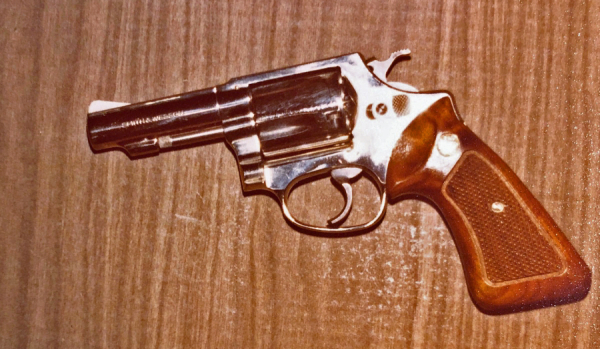 Would I carry it? Well, I worked ambulance in my youth for overtime at the police department in police uniform. It was untoward to work that detail in the duty gear Sam Browne belt and there were times I'd use the 3" M36 of mine in a Ray Baker Pancake Holster just like Ralph Shanks, our chief of police, used for his three-inch Chief Special. I backed it with a few Speed Strips and called it a day.