Today's feature is a continuation from Part I, presented by correspondent Dave Spaulding. From his previously published work on the RDS, he expresses his findings and brings us up to date.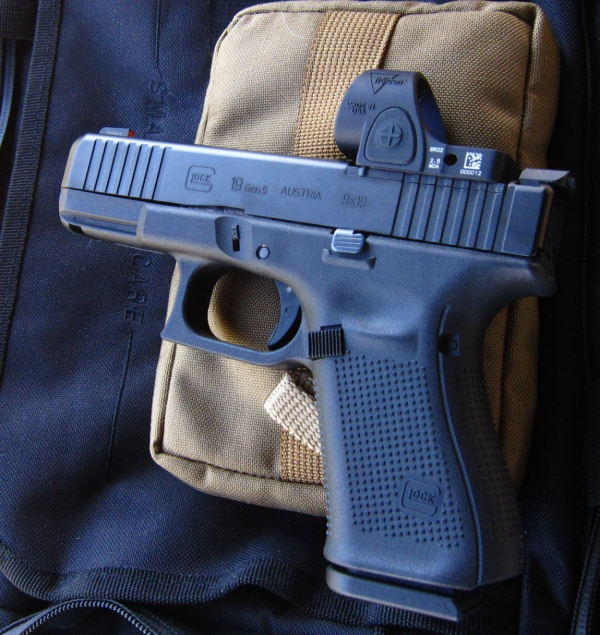 "Spaulding's one-year Red Dot trial findings:
The sight is fast and accurate. Though I didn't overly abuse the sight, it did hold its zero through normal-to-rugged use.
When going from cold to hot environments, the sight would fog over. I tried several different defog products and most worked as advertised. The only problem was knowing when I might have to defog. I found that wiping the sight with saliva worked just as well, and I always had a supply of that on hand.
The sight got in the way of the rotating hood-style of the police duty/SWAT holster. A thumb break worked just fine, as well as open top concealment holsters, which is what I used most of the time.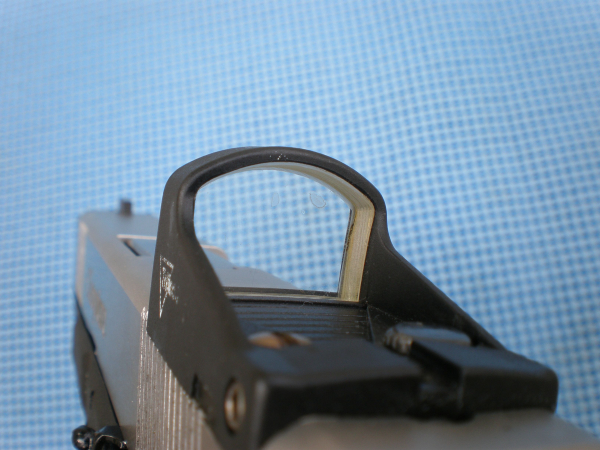 The sight window was chipped on several occasions by extracted brass that went back instead of out. This didn't affect the sight or obscure the dot because the J Point has an acrylic window, not glass.
Although the sight did stand up to abuse, I don't know what would have happened if the gun was dropped with the sight top down. It's doubtful that the sight would go flat, so the back-up fixed sights should work fine.
The sight was no harder to conceal in a proper belt holster than traditional fixed-pistol sights, and was even faster to draw from the holster."
After finishing this study and article, I returned to iron sights for several years. I noticed the increase in red dots showing up in classes, but I did not feel their use required specific training. As students continued to ask for a red dot specific course, Handgun Combatives co-instructor Brian "Bucky" Buchanan and I started from scratch and created our own red dot course. We did this because we did not want to play "instructor follow the leader."
We wanted to truly create a course of our own, so we purchased the most popular red dot units from sources on the internet and started shooting them under every condition we could think of including cold and rain. We shot them standing, sitting, laying on our sides and even upside down…anything we could think of we tried. We then developed our lesson plan. After doing that, we took classes from several instructors who specialize in red dot shooting and started to watch online videos on the subject. It is interesting to note that nothing we saw in our classes or in on-line videos changed our lesson plan. Of course, we did continually refer to what I had discovered during my year- long study of the optic.
In a nutshell, we found very little difference in training with the red dot pistol and one with iron sights. Both worked quite well with the major difference coming from presentation, whether it's from a holster, ready position or after a manipulation. Finding the dot can be problematic, but the solution seemed obvious to us after shooting in varied positions, not just standing upright. This solution is available to view here.
The video is from an actual red dot course that I taught in November 2021. Are there other solutions? Of course, but we have found this one to work the best under varied circumstances and shooting positions. It is also quite easy to accomplish and simplicity is king under duress! Many will say, "just align the iron sights and the red dot will be there." Read the top of the article again … I can't see the irons without corrective lenses so this will not work for me or many others with the same problem.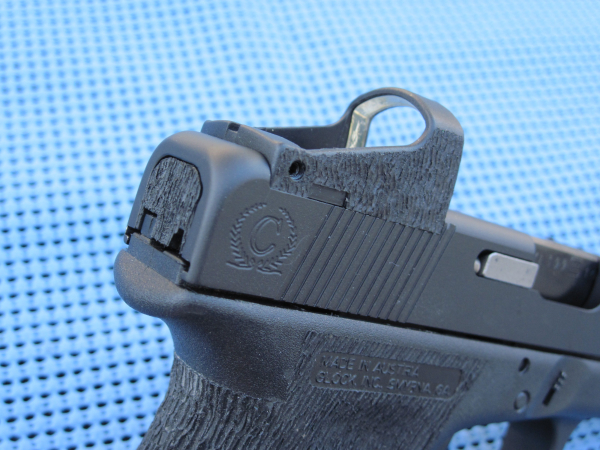 Refining the red dot needs to be biomechanical and not visual. Ducking your head or tightening a single finger, things that require specific movement, can be problematic. While the above technique is not perfect, it is the best thing I have tried. Over the last six months, I have taken a number of training courses, including Gunsite 250, that have required both long distance AND close, fast shooting and my "search" for the red dot on presentation is a thing of the past. In several courses, I have won the fast draw, man on man shoot off with the red dot sight, never failing to find it.
Once the presentation is mastered and used without thought, the red dot actually makes the process of pistol shooting easier. The "eye sprint" from front sight to target and back is eliminated as the shooter can look at the target/threat, superimpose the dot and depress the trigger. It can't get much simpler visually. No, the red dot will not correct lack of trigger control, but it will help show what your hands are doing while in contact with the pistol as the dot will tremor with every little movement.
Red dots are here to stay, but so are iron sights. There will continue to be shooters who will not trust a battery powered unit and that is ok. Confidence is an important aspect of defense and something that should be decided by each of us. I see the red dot and iron sights as complementing each other … not an either/or proposition. In the end, the choice is yours.
Dave Spaulding is a professional firearms instructor with 36 years' experience in law enforcement and federal security. The recipient of the 2010 Law Enforcement Trainer of the Year Award from the International Law Enforcement Training and Educators Association, Dave has worked in all facets of law enforcement including communications, corrections, court security, patrol, evidence collection, training and investigations. He was a founding member of his agency's SWAT Team and acted as its training officer for 8 years. He spent a year in an undercover capacity and was the commander of a multi-jurisdictional narcotics task force, has been an adjunct instructor at the former Heckler & Koch International Training Division and the Tactical Defense Institute. In addition to his many published articles (over 1,400), Dave is the author of two acclaimed books, Defensive Living and Handgun Combatives. He operated his own training company with focus on "the combative application of the handgun" www.handguncombatives.com.