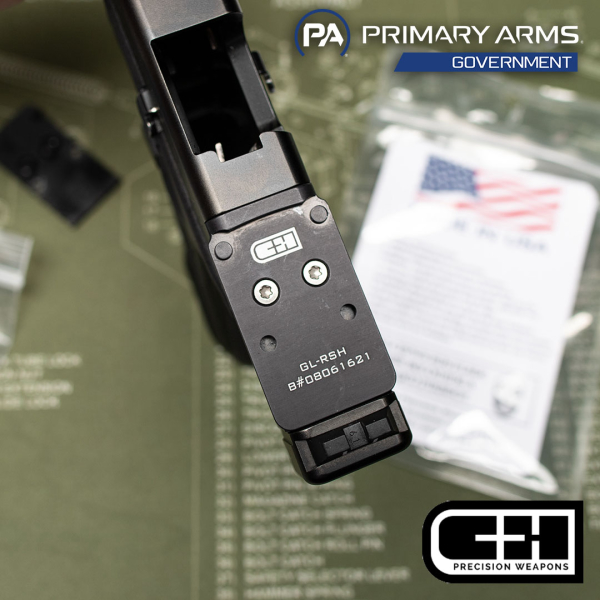 HOUSTON, TEXAS – Primary Arms Government now carries products from C&H Precision, available to Military and First Responders with special pricing.

C&H Precision is renowned for their modular optics adapter plates, which make it easy to upgrade your optics-ready sidearm with the latest miniature reflex sight. As research continually proves the effectiveness of pistol-mounted reflex optics, C&H Precision provides a durable, ultra-thin solution for pistols with compatible adapter plate systems. C&H adapter plates fit many of the most popular Law Enforcement pistol models, and over 2500 local and state agencies have approved them for duty use.

"Right now, many of our partners want to upgrade their sidearms with reflex optics, but every pistol manufacturer uses a proprietary footprint," says Jasmine Johnson, Inside Sales and Acquisitions Manager at Primary Arms Government. "By bringing on C&H Precision, we hope to offer them an effective single-source option to cover a wide variety of service pistols, including GLOCK, Smith & Wesson, SIG Sauer, Heckler & Koch, and many others."

To browse the full selection of C&H Precision products, click here.

For other news and announcements, follow Primary Arms on social media, including Instagram, Facebook, and Twitter.

About Primary Arms Government
Our mission at Primary Arms Government is to ensure every officer has the tools and equipment they need to do their job as safely and as effectively as possible, so at the end of the shift, they all go home. With 13 years of manufacturing, retailing, and wholesaling experience, Primary Arms opened its Government division in 2019, supporting professionals with access to over 600 top brands across 150+ product categories. With a (1) business day quote response turnaround time, Primary Arms offers industry-leading service with no minimum order quantity. In addition, Primary Arms provides its partners a full suite of complimentary amenities, including Agency demo days and T&E opportunities, a complete trade-in program, technical product support, and more. Primary Arms Government is the exclusive distributor for the patented ACSS reticle, available in various configurations with Primary Arms Optics' duty-proven products. Primary Arms Government is also one of Texas's Authorized Glock Law Enforcement Distributors.
For more information on Primary Arms Government, visit the company website or contact:
Primary Arms Government Sales Team
713-570-1905