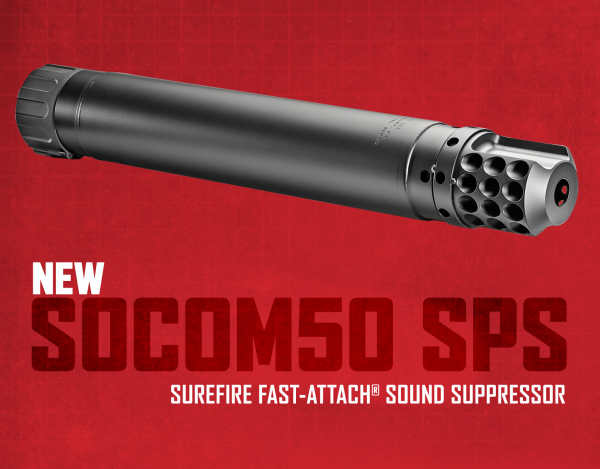 Fountain Valley, CA—SureFire, LLC, manufacturer of the world's finest—and most innovative—illumination tools and tactical products, is proud to announce the SOCOM50-SPS suppressor. This innovative suppressor tames the violent recoil, flash and sound of.50-cal precision rifles resulting in immense tactical and health benefits for the shooter.

The SOCOM50-SPS utilizes an integrated muzzle brake which decreases recoil by 66% to greatly reduce impact on the shooter and allow faster follow-up shots. This reduction in recoil occurs all while maintaining muzzle flash reduction by an amazing 99% to conceal the shooter's location.

The violence of the .50-caliber rifle platform isn't confined forward of the muzzle. Blast overpressure and acoustic exposure from unsuppressed .50-cal rifles have a substantial negative impact on the end user. Recent testing by the Walter Reed Army Institute of Research (WRAIR) has shown the SOCOM50-SPS to virtually eliminate blast overpressure. Additionally, the sound from unsuppressed .50-cal rifles is typically so high that most hearing protection does not provide enough noise reduction to sufficiently protect the shooter from hearing damage. The SureFire SOCOM50-SPS reduces sound at the shooter's ear by approximately 30 dB, preserving the shooters hearing, aiding their ability to communicate, and increasing their operational performance overall.
The SOCOM50-SPS suppressor mounts to rifles via the SureFire muzzle brake. Together they provide rock-solid attachment in seconds with extremely minimal and consistent point-of-aim/point-of-impact shift for supreme accuracy. Compatible muzzle brakes include the SFMB-TAC50, SFMB-HT1 and SFMB-M107.

Learn more: https://www.surefire.com/products/suppressors-division/suppressors/socom50-sps-suppressor/

About SureFire—Located in Fountain Valley, California, SureFire, LLC is the leading manufacturer of suppressors, high-performance flashlights, weapon-mounted lights and other tactical equipment for those who go in harm's way, or anyone who demands the ultimate in quality, innovation and performance. SureFire illumination tools are used by more SWAT teams and elite special operations forces than any other brand. SureFire is an ISO 9001:2008-certified company.

Press Contact: Andrew Wright awright@surefire.com