NEWINGTON, NH – In observance of POW-MIA Recognition Day, SIG SAUER, Inc. is honored to announce the production and presentation of a commemorative 1911 pistol to Major Jose Anzaldua, USMC (Ret.), and the release of a short documentary, "Once a Marine, Always a Marine: The Story of Major Jose Anzaldua."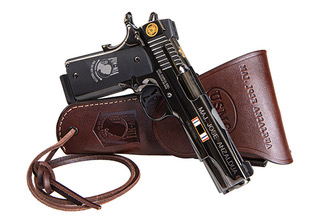 Major Jose Anzaldua, USMC (Ret.) volunteered for the U.S. Marine Corps in 1968 at the height of the Vietnam War, and served until his retirement in 1992 after 24-years of service. On January 23, 1970, Corporal Anzaldua was taken prisoner of war and imprisoned for 1,160 days in a jungle POW camp, as well as prisons in North Vietnam including the infamous "Hanoi Hilton." He was eventually released on March 7, 1974 during Operation Homecoming.
The unique distinguishing features of the commemorative 1911 pistol crafted by SIG Custom Works are:
1911 Pistol: the 1911 pistol was carried by U.S. forces throughout the Vietnam War, and by Major Anzaldua throughout his service. The commemorative 1911 POW pistol features a high-polish DLC finish on both the frame and slide, and is chambered in .45 AUTO with an SAO trigger. All pistol engravings are done in 24k gold;
Right Slide Engraving: the Prisoner of War ribbon inset, with USMC Eagle Globe and Anchor and "Major Jose Anzaldua" engravings;
Top Slide Engraving: engraved oak leaf insignia representing the Major's rank at the time of retirement and a pair of dog tags inscribed with the date, latitude and longitude of the location where Major Anzaldua was taken as a prisoner, and the phrase "You Are Not Forgotten" taken from the POW-MIA flag;
Left Side Engraving: the Vietnam War service ribbon inset, with USMC Eagle Globe and Anchor engraving;
Pistol Grips: anodized aluminum grips with POW-MIA flag.
A holster was provided by DeSantis Holsters as part of the presentation that is a replica of the holsters used by U.S. Forces during the Vietnam War inscribed for Major Anzaldua.
Additionally, SIG SAUER is honored to release the video feature, "Once a Marine, Always a Marine: The Story of Major Jose Anzaldua," to honor Major Anzaldua's service to our country. This documentary chronicles Major Anzaldua's time in captivity as a prisoner of war, features the 1911 commemorative pistol, and interviews with Major Jose Anzaldua, Ron Cohen, President and CEO, SIG SAUER, Inc., Tim Butler of SIG Custom Works, and members of the Anzaldua family.
On National POW-MIA Day on September 20th, and every day, we honor those whom have served and sacrificed for the United States of America in the defense of freedom.
The commemorative 1911 pistol was previously presented to Major Jose Anzaldua in a private ceremony at SIG SAUER Headquarters in Newington, New Hampshire by Cohen and Butler.
A full series of photos of the Commemorative 1911 pistol are available for viewing at sigmedialibrary.com.