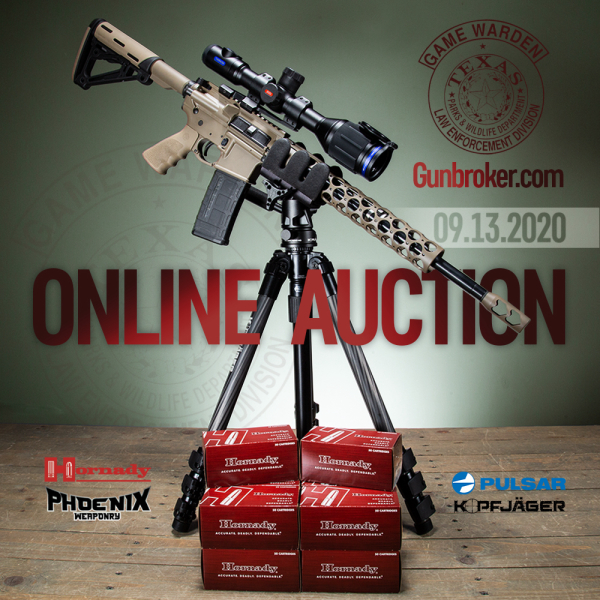 (MANSFIELD, TEXAS) – Sellmark Corporation is thrilled to announce its participation in the GunBroker Charity Auction scheduled to begin September 13, 2020. This auction will benefit the Texas Game Warden Association (TGWA), an organization dedicated to wilderness conservation and introducing children to the value of land and wildlife. Donors include Phoenix Weaponry, a precision rifle manufacturer based in Colorado, donating a one-of-a-kind, premium AR-15 for the auction. Kopfjäger, the specialty brand of choice for law enforcement, is donating a Reaper Grip Kit with included K800 Carbon Fiber Tripod. Pulsar, the worldwide leader in thermal optics technology, is donating a Thermion XG50 thermal riflescope, Pulsar's flagship model of the Thermion line of optics. Hornady, a world-leading innovator of ammunition, reloading tools and accessory design, is donating ammo. This once-in-a-lifetime opportunity is purely for the benefit of the TGWA—their motto is "Conservation for Generations"—a sentiment that Sellmark Corporation supports 100%.
The total estimated value of the auction's contents is $10,000.
To participate in the auction, follow this link: https://www.gunbroker.com/item/875969561
About Sellmark
Sellmark is dedicated to producing industry-leading outdoor lifestyle products and brands and continues to grow market share in more than 50 countries, including many quality retailers in every state across the U.S. To date, Sellmark products and brands have been sold in more than 5,000 locations around the world. Sellmark "Brands that Sell" include Sightmark, Pulsar, Firefield, and Kopfjäger. For information about any of these brands or products, please contact mediarelations@sellmark.net.