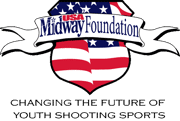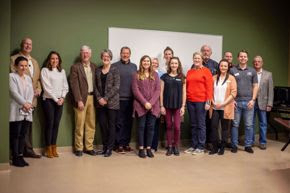 [Photo: Larry & Brenda Potterfield (center-left) alongside MidwayUSA Foundation staff and board members on February 8, 2021.]
Columbia, MO - MidwayUSA Foundation has received a generous donation from Larry and Brenda Potterfield, owners of MidwayUSA, that will allow operations to continue at their current location, indefinitely. The donation of the Roosevelt Building, located on MidwayUSA's Columbia, Missouri campus, is the present home of MidwayUSA Foundation. The office building was gifted on February 8th, 2021 during the MidwayUSA Foundation's Board of Directors meeting.
G. Scott Reynolds, Executive Director, had this to say about the monumental donation. "All of us at MidwayUSA Foundation are humbled by Larry and Brenda's generosity. Their gifting of this building provides us with our forever home, allowing us to focus on funding youth programs into perpetuity without having to worry about our own long-term infrastructure requirements. I'm thrilled this building will continue to provide a comfortable and productive workplace for the Foundation's incredible staff while simultaneously allowing for continued personnel, logistical, and programs growth. We can't thank the Potterfield family enough!"
MidwayUSA Foundation currently employs 14 people. In addition to the Columbia, Missouri office, Program Managers are located regionally across the country to assist youth shooting teams and organizations. The facility will provide the nonprofit with a place to continually help communities and organizations raise funds to support their high school, college, and other youth shooting teams and activities, for years to come.
The MidwayUSA Foundation is a 501(c)(3) public charity working to sustain and grow the shooting sports industry by providing long-term funding to youth shooting teams. Every donation made is tax-deductible and allows the Foundation to assist in expanding and enhancing the leadership skills, confidence, and discipline of today's youth through shooting sports activities. The Foundation supports all shooting disciplines. For more information about how the MidwayUSA Foundation is changing the future of youth shooting sports, please visit midwayusafoundation.org or call 1-877-375-4570.
6001 W Van Horn Tavern Road Suite C Columbia, MO 65203