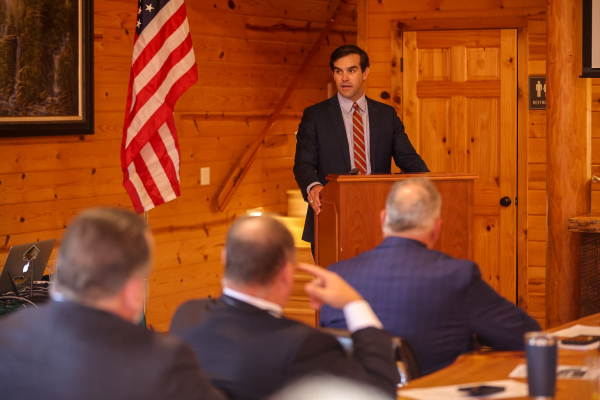 PONCA — Arkansas Game and Fish Commissioners at today's meeting authorized AGFC Director Austin Booth to enter into a memorandum of understanding with the city of Clarksville and the University of the Ozarks to construct a new shooting sports complex. The proposed range will be open to the public and complement the university's growing collegiate shooting sports program.
Initially introduced at the agency's July meeting, the effort to expand shooting sports in Arkansas is a commitment by Director Booth to the thousands of recreational shooters who help fund conservation through federal excise taxes placed on firearms and ammunition.
The AGFC hopes to provide up to $2 million in matching funds to help the university construct the proposed $12 million facility. If approved, the match would be contingent on the university raising the remainder of the required funding.
Commitment to the many Arkansans who make the AGFC's conservation efforts possible was a common theme with all aspects of the meeting held at the RiverWind Lodge of the Buffalo Outdoor Center in Ponca today.
Director Booth opened his address to the Commission with a story about visiting with a hunter last year who was frustrated with the federal requirement to have a physical duck stamp 45 days after purchase when an electronic code of the purchase was printed on a hunter's license.
"Last year I met with other state agency directors at the Association of Fish and Wildlife Agencies and representatives from the U.S. Fish and Wildlife Service, and we crafted some legislation to correct the issue. I'm happy to say that it has now passed both the Senate and the House of Representatives. There are a few small details to work out, but hopefully that will go to the Oval Office in the near future and be able to be implemented for the 2024-25 duck season."
Director Booth concluded with a thanks to the people of Ponca's hospitality and the many partners and staff that work throughout the state to complete the agency's mission.
"The most important thing that we do in conservation is in the field with the people of the state," Booth said. "It is important that we recharge our batteries, and the way that we do that is getting in the field and meeting the people who we serve and get dirt underneath our fingernails just as they do with the work for conservation."
The meeting included presentations on the elk program, private lands habitat assistance programs available and the agency's new website redesign.
AGFC Elk Program Coordinator Wes Wright spoke about the agency's procedure to monitor Arkansas's elk population. Each February, biologists begin to fly over established wildlife openings and fields on public and private land in a small helicopter to count herd sizes and determine age structures, distribution across the landscape and sex ratios within each herd.
"We also have secured a new drone with thermal-imaging capability, and I think that will really help us in the future with our survey data," Wright said.
According to this year's surveys, the elk herd is stable but there are two areas within the elks' range where elk are declining: Boxley Valley and the Erbie/Pruitt area. Increasing rates of chronic wasting disease also cause concern with elk managers and biologists in the region.
AGFC North Private Lands Supervisor Ted Zawislak gave a presentation on the AGFC's Acres for Wildlife Program, which has been in place for 50 years and has seen an expansion since the formation of the AGFC's new Private Lands Habitat Division.
"The program began 50 years ago with biologists and game wardens distributing food plot seeds to landowners willing to plant," Zawislak said. "We've increased the program to offer much more help to landowners in its current form."
According to Zawislak, the program has funded 87 contracts for forest stand improvement, herbicide application, planting native warm-season grasses and wildlife-friendly plants, and assistance with prescribed burn preparation.
We are going to be able to help landowners conduct herbicide treatments on 1,301 acres, native warm-season grass and forb planting on 688 acres, forest inventory on 2,845 acres and timber stand improvement on 1,842 acres," Zawislak said.
Zawislak said he also hopes to help landowners implement prescribed burns through a conservation tax credit program.
"We were able to fund preparation of fire breaks through Acres for Wildlife, but assistance through tax credits will also help us get landowners to put a lot more habitat on the ground."
AGFC Assistant Chief of Communications Lauren Weston presented an upcoming redesign of the agency's website, www.agfc.com.
"We conducted stakeholder research with people in the agency as well as external audiences to prioritize how the user experience would be managed," Weston said. "The current user experience is very cumbersome and not as intuitive as they would like. Much of that will be remedied with content strategies based on a 'less is more' philosophy and ensure regulations are moved to the top and are always easy to find. An improved search function also will help users find what they are looking for."
The new site will keep a focus on the pages visited most and offer dynamic content that will adjust to search trends and seasonal needs of the users.
In other business, the Commission:
Authorized a transfer of $712,947 to the Arkansas Economic Development Commission's Division of Rural Services to distribute Wildlife Education Grants for conservation education throughout Arkansas. Funds for these grants are derived through fines for wildlife violations.

Heard from fifth-generation Arkansan and Newton County Justice of the Peace Jamie Mefford with a presentation on his experience growing up and living in Northwest Arkansas.

Heard from former AGFC Commissioner Ken Reeves of Harrison who offered an update about the current relationship the agency has with the people of Northwest Arkansas.

Heard the first reading of a regulation to establish a permit allowing people to remove non-federally protected items from the lakebed of Craig D. Campbell Lake Conway Reservoir during its renovation.

Created a new free Resident Bear Tag (TBEAR) that is required to pursue black bears. This tag was established to collect additional data on the number of bear hunters in Arkansas.

Created the following free hunting tags to align with the agency's new licensing system for hunters participating in certain special hunts: Deer Management Assistance Program Management Tag (DMAP), Urban Deer Hunt Management Tag (UDHM), Chronic Wasting Disease Management Tag (CWDM) and Chronic Wasting Disease Replacement Tag (CWDR).

Created a $500 Resident Natural State Lifetime Combination Hunting License and Permit. The permit, available to resident youths 10 and under, conveys all hunting and fishing privileges (including state trout and waterfowl stamp privileges) for the lifetime of the recipient.

Corrected an error in the AGFC Code of Regulations regarding the tagging and checking procedure for wild turkey hunting.

Authorized Director Booth to convey a permanent right-of-way easement to Springdale Water and Sewer Commission to install a new line as part of its municipal sewer system.

A video of the meeting is available at https://www.youtube.com/user/ArkansasGameandFish.