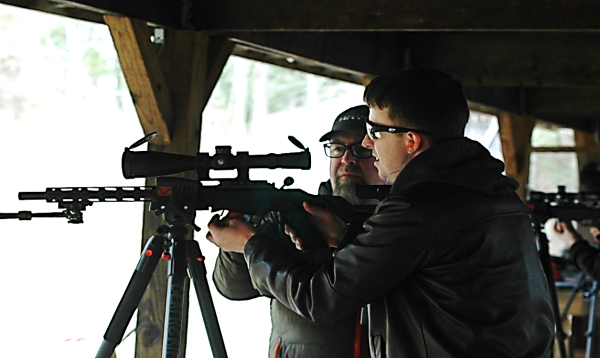 Jacob Schlauder with HAVA volunteer.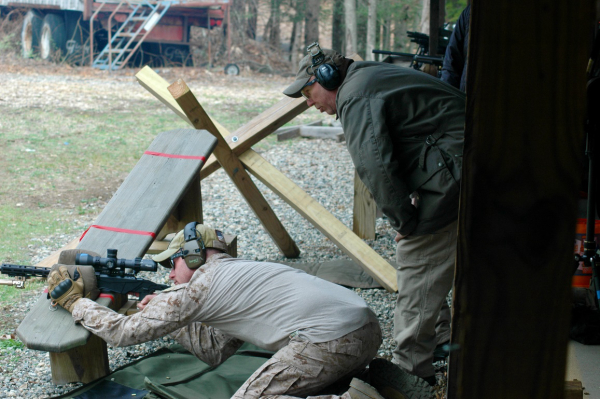 Andover, CT - Honored American Veterans Afield (HAVA) and The Independence Fund partnered to host a precision long-range 22 caliber shooting event at the Andover Sportsman's Club in Andover, Connecticut. Six veterans from the Army, Army National Guard, Navy, and Marine Corps participated in three days of training and target shooting.
The event kicked-off with an evening meet and greet for participants and volunteers, where Mike Bush of Vudoo Gun Works explained some of the history of precision long-range 22 shooting.
The next morning, volunteers covered safety procedures and then provided the veterans with training on the Ruger RPR rifle and fundamentals of long-range shooting. Smith & Wesson hosted an afternoon steel challenge event where veterans had the immediate feedback from well-placed shots by "ringing the steel."
"We had the opportunity to bring some local veterans to southeastern CT to learn about .22 long-range precision rifle shooting under the watchful eye of great coaches and volunteers. The veterans learned a ton about the sport from some of the top shooters in the area. One of the best parts of the weekend was a getting to see Veterans back in their element – on the range with other veterans. We're very thankful for everyone who helped put on the event and could not have done it without them" said Phil Limauge, The Independence Fund's Mobility Program Manager.
Guardians of the Purple Heart (GOTPH), a local Connecticut group that focuses on Purple Heart recipients in CT, was instrumental in bringing veterans to this event. Doug Capazzi, President of GOTPH, said "we work to provide a support system that many veterans need while they are either in transition or at other points in their life."
The final day paired each veteran with a skilled mentor to participate in a shooting match hosted by East Glastonbury Fish and Game. The event was very successful, providing veterans with the confidence to compete in formal events. Jacob Schlauder, a combat decorated Navy Fleet Marine Force Hospital Corpsman, said of the event "…it's a good group of guys who get each other, [who understand] veterans. Thank you for everything." While serving with the Marines, Jacob experienced both direct and indirect contact with enemy forces on numerous occasions in Afghanistan where he suffered multiple injuries that ultimately led to his medical retirement from the Navy.
"HAVA met six great Americans at this event. We chose to tell Jacob's remarkable story in this article, but the other five veterans have great stories, as well, said Tom Taylor, HAVA, Chairman. Every veteran's story is special and important, but there are definitely two common threads that connect them all together - service and sacrifice". Our veterans have sacrificed and so many have paid a severe price for serving. With that in mind, HAVA will continue to adapt and flex our events, so we can continue serving veterans, through COVD-19 and whatever challenges the future might hold."
Chris Fleming, HAVA's Event Manager said, "events like this only happen because so many people truly care so much about our veterans." Fleming, a firearms instructor and a veteran himself, thanked the numerous organizations and individuals that contributed. "HAVA is very fortunate to have many sustaining sponsors, three of whom – Ruger, Glock, and Smith and Wesson - provided direct support this weekend. Additionally, all the volunteers, instructors and coaches who spent time with each veteran, the Andover Sportsman's Club for use of their facilities, Vudoo Gun Works, Academi, East Glastonberry Fish and Game, Newington Gun Exchange, BJZ Cycles, Gano's Power Equipment, Kahn's Tractor Supply, 2 Brothers Restaurant, and Fireside Brick Oven all made this a great event for our veterans. To all of you, our sincerest thanks for making this a huge success."
About HAVA
HAVA is a 501(c)3 organization formed by companies in the shooting and outdoor industry with the purpose of raising awareness and further assisting disabled veterans with their healing process through guided hunts, shooting events and other outdoor sports activities. The sustaining sponsor companies are Smith & Wesson, National Shooting Sports Foundation (NSSF), SIG SAUER, Academi, Arnold Defense, Crimson Trace, E3 Training, FMG Publications, GLOCK, Hornady, Leapers/UTG, Leupold & Stevens, Mossberg, National Association of Sporting Goods Wholesalers (NASGW), Operation Hat Trick, Ruger, Savage, Surefire, Taurus, Vista Outdoor/Federal, XS Sights, and Yamaha Outdoors among numerous contributing companies. To learn more about HAVA, go to: www.honoredveterans.org.
The Independence Fund
Founded in 2007, The Independence Fund (501c3) is committed to empowering our nation's catastrophically wounded, injured, or ill veterans to overcome physical, mental, and emotional wounds incurred in the line of duty. The Independence Fund is dedicated to improving the lives of veterans and their families by providing tangible impact. Through the Fund's Mobility, Caregiver, Adaptive Sports, Advocacy, Suicide Prevention, Family, and Crisis Relief programs, The Independence Fund strives to bridge the gap of unmet needs for veterans and their caregivers. The Independence Fund believes in fairness and equality for all veterans and families irrespective of race, gender, religion, and sexual orientation, and will continue to uphold these American values. To learn more about The Independence Fund, go to: https://www.independencefund.org
Guardians of the Purple Heart
The organization benefits Purple Heart Recipients in the State of Connecticut. Events and fundraising will be planned with the purpose of raising money to help recipients with needs approved by the Board of Directors. Other events will be held with the purpose of raising awareness for combat wounded veterans (Purple Heart Recipients), Veteran Suicide Prevention, and assist with connecting all veterans with services and benefits provided by other organizations. To learn more about Guardians of the Purple Heart, go to: https://gotph.org/
Media Contact: Kim Cahalan
Office: 309-944-5341