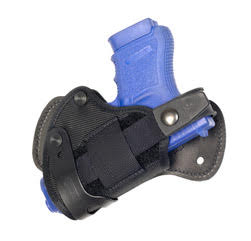 The Advanced Back Holster is constructed of leather and padded Ballistic nylon and built to last a lifetime. This OWB small of back holster has a truncated muzzle design to maximize concealability, proprietary PowerBand for tension adjustment, and Velcro adjustable, reversible Thumb-Break retainer straps. Proprietary SightStrip protects your weapon's sights each time you draw and reholster. The Elite SOB holsters fit most pistols. The belt-attachment panel of this SOB carry holster accommodates belts up to 1.75" wide.

OWB small of the back holster made in the USA

Size 2:
Beretta 84 series; Astra Constable series; Walther PP/PPK/PPKS series; SIG Sauer P230

Size 4:
Glock all models; Sig Sauer P220,225,226,228,229,245,P239; Ruger P85,P90,P94,P345,KP94,SR9; Beretta 92/96,M9,PX4,8000,9040,9000; FN P-9; Taurus 92,99,100,24/7,PT111/145,PT911/940; CZ75/85; DE Baby Eagle; S&W CS9/40/45,908,910,457,M&P & most S&W autos including Sigma Series; Walther PK380,P22,PPS, PPS M2,P5,P5 Compact,P88,P99

Size 5:
Colt Government/Gold Cup/Commander/Officers; similar Llama, Star, Springfield; Firestar 9mm, .40, .45; Browning Hi-Power (fixed/adjustable sights) and BDM; Sigma 380; Kel-Tec PMR-30; Kimber Solo

Size 6:
Beretta BU9 Nano; Springfield XDS; Kahr Arms CM9, P9/40, MK9/40, K9/40, PM9/40, CW9/40; H&K PSP, P7 series pistols; Sphinx 380; Makarov; Kel-Tec P-11; Ruger LC9; Springfield Armory Hellcat

Size 7:
Colt .380 Government, Mustang Series, Pocketlite, Pony

Size 8:
H&K USP 9mm/40/45; Browning Pro-9; Springfield XD; FN Five-Seven Tactical; Sig Sauer SP2340,SP2022; Walther P99
Elite Survival Systems® is your source for premium nylon holsters, tactical gear, and accessories. Don't just SURVIVE. THRIVE.™ To see complete product lines, visit www.elitesurvival.com or call 866-340-2778.